Robert Hutton "Bob" Kent, age 96, peacefully passed away on March 9, 2018. He served as then International Association of Auditorium Managers president during the 1968-69 term while employed in Greensboro, NC.
Born on February 14, 1922, in Olcott, W. Va., he was one of Ernest and Midge Hatfield Kent's nine children. It was during high school in Mount Hope, WV,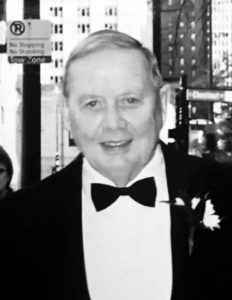 that he met the love of his life, Nancy-Ellen Feazell. A talented athlete, he excelled in football, basketball, and baseball and was awarded a basketball scholarship at North Carolina State University. Bob's college career was interrupted by the advent of World War II when he enlisted in the Army Air Corps. As an Army Air Force officer, Bob, a 1st Lt., was a flight instructor in the Gulf Coast Training Command and was stationed in Texas, South Dakota, and Arkansas. Throughout the war years, Bob persistently courted Nancy, and after her graduation from Sweet Briar College, they were married on October 23, 1945, and briefly lived in Little Rock.
After Bob's honorable discharge from the Army Air Corps, he and Nancy returned to live in Mount Hope. Their first child, Drema Walker (Dede) Kent, was born on July 8, 1946, and their second daughter, Nancy Hutton (Hutton) Kent was born on February 4, 1949. During the early years of his marriage, Bob owned a sporting goods store in Beckley, refereed football games, coached basketball at Beckley College (now Mountain State University), wrote for the local newspaper, and was the sports broadcaster for WOAY-TV in Oak Hill, WV. As the Beckley College coach, Bob met Press Maravich (father of basketball legend Pete Maravich), who coached a rival team. Bob and Press became lifelong friends.
In 1954, Bob became the general manager of the newly built War Memorial Auditorium in Fayetteville, WV. Arena management was Bob's calling, and in 1958, he was recruited to become the general manager of the Greensboro Coliseum, then under construction, in Greensboro, NC. Under Bob's steady and innovative management, the Greensboro Coliseum hosted countless musical and entertainment events as well as numerous ACC basketball tournaments. It was during these years that Bob formed enduring friendships with legendary college basketball coaches Dean Smith, Adolph Rupp, Lefty Driesell and Vic Bubas.
In 1969, developer Tom Cousins tapped Bob to be come the president of the Omni Coliseum, then under construction. Under Bob's management, the Omni hosted myriad performers, including Frank Sinatra, Elvis Presley, Bob Hope, Sammy Davis Jr., Liza Minnelli, Liberace, Pavarotti, Willie Nelson, James Brown (whose career he helped resurrect in the 1970s), Bruce Springsteen and the Grateful Dead to name a few. Bob was instrumental in bringing other exciting attractions to the Omni including numerous ACC basketball tournaments, the 1977 Final Four NCAA tournament, the 1988 Democratic National Convention, Ringling Bros. Circus, Holiday on Ice, Ice Capades, the Harlem Globetrotters and professional wrestling.
For several years, Bob served as president of the Atlanta Hawks, during which time Bob persuaded the legendary Pete Maravich, the son of his old friend Press Maravich, to join the Hawks. Bob worked on the original proposal for Atlanta's successful 1972 bid for a National Hockey League franchise, the Atlanta Flames. Bob served as president of the Flames until their sale to Calgary in 1980.
Bob was involved in a number of professional organizations including the National Association of Basketball Coaches (NABC) and was elected president of IAAM. He also served as a consultant on more than 30 projects throughout the US. He loved his work in Atlanta and turned down offers from other arenas including Madison Square Garden, the Superdome, and the Boston Garden. Bob was named "The Best in the Business" by Sports Illustrated magazine. He was an ordained elder in the Presbyterian church and a longtime member of Trinity Presbyterian Church in Atlanta.
Bob and Nancy loved to travel and enjoyed numerous trips to Europe, several times traveling aboard the Queen Elizabeth II and the Concorde. They especially loved the American West, spending many winters in Arizona. An avid golfer, Bob counted among his friends the legendary Sam Snead and Dow Finsterwald. Bob and Nancy treated their family to numerous vacations over the years, their favorite resort destinations including the Greenbrier, Pebble Beach and the Broadmoor. In the mid-1980s, Bob and Nancy built a house at Hilton Head, SC. For the next 30 years, the family gathered there for long summer vacations and holidays throughout the year. Many happy and hilarious times were enjoyed at the beach house, those memories treasured by the family.
Despite his numerous achievements, Bob, known as Daddy Bob by his grandchildren and great-grandchildren, led a humble, low-key life that focused primarily on his devoted family.
Bob was predeceased by his parents and his eight brothers and sisters. He is survived by his beloved wife of 72 years, Nancy; his two daughters, Drema "Dede" Kent Natale (Paul) and Hutton Kent Dhue (former son-in-law Bob); four grandchildren, Laurie Walker Dhue, Nancy Dhue Suh (Chris), Natalie Natale Hinkle (Steve), all of Atlanta, and Paul Michael Natale Jr. (Emily) of Chicago; and six great-grandchildren, Robert Christopher Suh and Thomas Hutton Suh of Atlanta, Cecilia Katherine Hinkle and Walker Joseph Hinkle of Atlanta, and Paul Michael Natale III and Olivia Marie Natale of Chicago, as well as many nieces and nephews.
For friends wishing to make memorial gifts, the family suggests The Atlanta Humane Society, Trinity Presbyterian Church, or Save the Children.