It is with saddened hearts to announce the passing of Gunnery Sergeant Henry Bruce Thomas, USMC, Retired, 85, of Katy, Texas on Friday, November 20, 2020 at the Richard A. Anderson Veterans Home in Houston, Texas. He had been a patient there for one week. Henry was born on August 15, 1935 in Whigham, Georgia to William McKinley Thomas and Ethlene Trulock Thomas.
Henry proudly served his country as a United States Marine, serving in the Vietnam War, and retiring in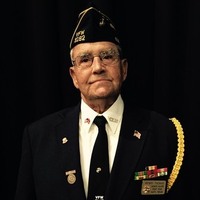 1971 at the rank of Gunnery Sergeant. He then had a long and distinguished career at the Summit/Compaq Center as Operations Manager, until his retirement in 2000. After retirement, he and Connie spent many years traveling and seeing the country in their RV. He was an active member of the Katy V.F.W. Post 9182, the American Legion Post 164, the Semper Fi Society of Brazos Valley and the Marine Corps League of Katy, Texas.
Henry's vibrant personality, endless work ethic and caring heart led to a remarkable life and he will be missed deeply by family and friends. Henry was of the Southern Baptist faith and attended First Baptist Church of Katy.
Henry was a loving husband for 58 years to Connie Evans Thomas; a devoted father to one daughter, Rachel Thompson Mikula of Katy, Texas and two sons, Barry Thomas (Veronica) of Humble, Texas and Todd Thomas (Marla) of Keller, Texas. He was also "Pawpaw" to four grandsons, Austin Thompson, Tyler Thompson, Bryan Thompson (Anna) and Luke Thomas; and three granddaughters, Candace Thomas, Trinity Thomas and Simone Shaw. Henry is also survived by three sisters, Ima Jean Fussell, Rachel Tilley and Ola Mae Grubbs; six brothers, Douglas Thomas, Dale Thomas (Donna), A.J. Thomas (Mary), Jackie Thomas (Jo), William Thomas (Janice), and Lee Thomas (Lori); and a large number of nieces, nephews, great nieces and great nephews who he loved dearly.
Henry was preceded in death by his parents and four sisters, Hazel Bodiford, Madelyn Smith, Patsy Jo Ezell and Georgia Faye Kirby. He was also preceded in death by one grandson, Garrett Jenkins.
A graveside service with full military honors presented by the honor guard of Katy V.F.W. Post 9182 will be held at 12:30 p.m. on Friday, December 4, 2020 at Houston National Cemetery, 10410 Veterans Memorial Drive, Houston, 77038, with Chaplain Jeb Strickland officiating.
In lieu of flowers, the family requests memorial gifts be made to the Katy V.F.W. Post 9182, P.O. Box 37, Katy Texas 77492 or to the Katy American Legion Post 164, P.O. Box 1171, Katy Texas 77492.