Merton Barr, a long-time IAVM member who served as the assistant general manager of the Veterans Memorial Auditorium in Des Moines, Iowa (now part of the Iowa Events Center), passed away peacefully on Monday, September 11, 2017, at UnityPoint Methodist Hospital.
Merton was born February 4, 1936, in Des Moines, IA to Merton and Mary (Enlow) Barr. He graduated from North High School in 1953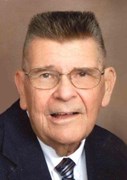 and from Capital City College in 1955. In college he met and married his wife, Louise Erdman.
Merton's first job as a teenager was delivering bicycles for his father's business, Barr Bicycle Shop. He was employed 35 years by Veterans Memorial Auditorium. For most of his life, he attended Gatchel United Methodist Church until it closed and then became a member of West Des Moines United Methodist Church.
"Mert was one of the very first people to welcome me to Des Moines in 1979 when I joined the about-to-open Civic Center," said Bill McElrath, CFE, business director of the Des Moines Performing Arts. "He was a great friend and resource and one of the nicest guys you could ever meet. He was well known in the IAAM/IAVM circles during his career and particularly within District/Region 3. The long-term success of the Veterans Auditorium operation paved the way for what grew into the Iowa Events Center and Wells Fargo Arena."
Family and friends were very important to him including get-togethers for birthdays, holidays, any excuse to play cards, or going out to eat. When he wasn't able to go in somewhere, he would love to just take a drive. Merton felt it was an honor and privilege to attend his children and grandchildren's ballgames, concerts, and plays.
In retirement, he was able to devout more time to his passion for trains and even built a model railroad layout in the basement. Merton was an avid reader, crossword puzzle player, musician, Drake Basketball fan, and he finally got to see his Cubs win the World Series.
Merton is survived by his wife of 61 years, L. Louise (Erdman) Barr; three children, David (Bernita) Barr of Alleman, Stephen (Beth) Barr of Webster Groves, MO, and Susan (Greg) Lynch of Clive; seven grandchildren, Jacob, Brandon, and Emily Barr, Madeline and Anna Barr, and Katelyn and Isabelle Lynch; brothers-in-law, Richard Dalbey and Wayne (Nancy) Erdman of Waukee; sister-in-law, Donna (Erdman) Adamson of West Des Moines; and many cousins, nieces, and nephews. He was preceded in death by his parents; sister, Margaret Dalbey; and brother-in-law, Edward Adamson.
Donations may be made to West Des Moines United Methodist Church or Iowa Food Bank.