Larry N. Rogers, who for 14 years managed the Augusta-Richmond County Civic Center (now James Brown Arena) and turned it into a profitable business operating in the black, passed away December 14 of medical problems. He was 76.
Fittingly, the obituary note includes the following appropriate for this season: "Larry's favorite holiday was Christmas and he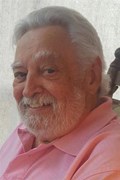 would want everyone to have a merry and joyous one. Therefore, his memorial event will be held after the holidays, time and place to be announced. Memorial gifts may be made to the Augusta Canal National Heritage Area, the Golden Harvest Food Bank or the Imperial Theatre renovation fund."
Rogers wife, Rebecca, is marketing and public relations director of the Augusta Canal National Heritage Area.
Rogers served as operations manager of the Huntington (WV) civic center when the Augusta-Richmond County Coliseum Authority hired him in 1979 as assistant general manager of the $18 million entertainment facility, which opened the following December mostly under Rogers' expertise.
Rogers was known for booking diverse acts that constantly drew sold-out crowds to the venue. From rock to R&B to country, Rogers brought all to town, even though he admitted that initially he was not aware who some of them were when they first appeared in Augusta in the early 1980s.
Rogers later worked at other entertainment venues beginning in 1993 although Augusta was always home to him and his love with the community and its venues.
IAVM will announce more on the memorial event as soon as information is known.