By R.V. Baugus
I first met Neil Campbell back in 1990 or 1991. I take that back, we didn't actually "meet" but it was through phone calls and likely even a fax or two. I told you it was 1990 or 1991.
Neil oversaw the Kingdome in Seattle, home to the NFL Seahawks and MLB Mariners. Neil was already a giant in the public assembly venue industry and for me just starting as editor of Facility Manager magazine, it was an honor to get to know someone of Neil's stature. I always remember just how gracious, kind, distinguished, and gentlemanly Neil was. He could immediately put to ease anyone he was meeting or talking to for the first time.
The reason for our visit was that the Kingdome had come up with this very innovative "recycling" plan by utilizing worms as a composting measure for the leftover food at the venue. It was definitely an out-of-the-box story, and I had fun writing it and hearing Neil recount everything that went into this well-hatched plan.
Today, 30 years later, I like all of his friends and colleagues in the industry mourn the passing of Neil Malcolm Campbell, CVE, who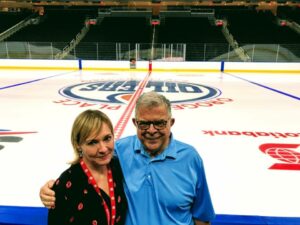 passed away on April 5 at the age of 79.
Neil was a fixture in the Seattle area both at the Kingdome and later as vice president of ballpark operations for the Mariners.
"Neil injected a superb level of professionalism into facilities across Canada and the United States," said long-time friend Warren Buckley. "He had the uncanny ability to read and work with people reacting to situations in a calm and deliberate manner. Neil 'wrote the book' on integrity and his soft and gentle demeanor fostered a team approach in the workplace. Those of us who had the pleasure to have worked with Neil will have benefited from the best in our industry. It is hard for me to contemplate life without Neil Campbell. He was a great colleague and dear friend who shall be remembered by many."
Neil shared his love of the industry with his children, Susan and Colin, who have both gone on to success venue management careers.
"The first time I ever got exposed to (then) IAAM was in 1986 with the national meeting was in Edmonton, said Susan, now executive vice president, general manager, Rogers Place at Oilers Entertainment Group. "He was helping to host that. My little brother and I worked the hospitality suite for the local host committee in Edmonton. Colin was a rink rat and my step-sister and I were both usherettes, which is what they called us back then. My first job was in the Northlands Coliseum at 14. He always said, don't tell 'em nothing!"
Added IAVM member John Christison, CVE, another long-time Seattle venue leader at the Washington State Convention Center: "There are a lot of members who knew Neil pretty well. He wasn't real outspoken and never really sort of stood out or looked for accolades, but he was always one of those guys that was there if you needed something or you could call and he would go out of his way to try to help you. That's just the kind of guy Neil was. People will remember him as being a good friend and someone you could always count on if you needed something."
Christison noted that when his son graduated from college "unbeknownst to me went and had an interview with Neil and Neil hired him as an event coordinator. About a year before that I ended up hiring Neil's daughter, Susan, and she worked for us as an event coordinator. We never talked about it, but that was pretty interesting."
Indeed, the family affair took on even more interesting dimensions throughout the Pacific Northwest and Canada.
He wanted to be remembered for the daredevil he was, Susan said. "In addition to being my father, he was my mentor, 100% my mentor. Because we had different last names, I'm Darrington and he's Campbell, I ended up working at the Seahawks across the street and they didn't know for six months that we were related when we were both running buildings across the street from each other. I ended up getting the job to open up Rogers Place. It was the day of the press conference and my dad was so excited and they said, so what did your dad do? I said, well, he opened up Northlands Coliseum."
Susan thought about her dad's impact and shared that it went far beyond just family ties, but how everyone in his venue became extended family.
"I think the hallmark for me of who he was and what I learned is everything in that building is important," she said. "He knew people from the parking entrance gates to the housekeepers to the ushers. Those were his family and when he opened a building and had an event that was your home and you treated people like guests in your home. That's how I always modeled my career. You just knew everybody."
Much about Neil was interesting, and, yes, daredevilish. Christison also remember the experiment with the worms.
"They had a great big old contraption back behind the Kingdome where they were throwing old hot dogs and stuff and letting the worms have at it," he said with a laugh. "I think I had just got to Seattle in 1990. I remember Neil calling me and saying, 'we've got this really cool idea.' But a lot of people came and looked at that and tried to replicate it."
Whether it is replicating or imitated, there is the old saying of "often imitated, never duplicated." Indeed, there is only one Neil Campbell, and he will be missed by so many.
Neil is survived by wife, Loree; daughter, Susan; son, Colin; and his adoring family.
"That is the hardest part of this pandemic right now is my mom so wants to be able to honor him," Susan said. "He will go back to Canada but we just aren't able to do anything right now. Hopefully in the summer we might be able to do something."
Pictured: With daughter, Susan Darrington, on the ice of the Edmonton Oilers.