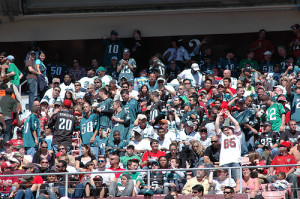 Eagles Sending Bags for Stadium Use to Season Ticket Holders
–NBC Sports
The NFL altered its policy on what kinds of bags fans are allowed to bring into stadiums last week, banning just about everything other than clear bags made of plastic, vinyl, or PVC with dimensions that do not exceed 12 inches by six inches by 12 inches.
There was a wide range of reactions to the change in policy. Some said it was a necessity to minimize the amount of bags to inspect at the gate, others argued that it was an inconvenience that didn't ensure the safety of crowds and still others noted that NFL teams don't seem to have any problem selling bags to fans at their stadium stores that they wouldn't allow inside their own stadiums the next time a purchaser came to a game.
See also: Faster Entry, Better Security the Rallying Cry Behind NFL's New Bag Policy
And: For NFL Fans, When is Enough, Enough?
Miami Heat Fan Experience Boosted for NBA Finals – Slideshow
–South Florida Business Journal
When fans of both the Miami Heat go through the gates of the American Airlines Arena for Game 7 of the NBA Finals, they will be treated to the work of fan Experience expert Ruby Newell-Legner.
Legner has worked with the Eastern and Western Conference Champions to help boost in-venue fan and employee experience.
Yahoo! Named Founding Partner with Levi's Stadium, 49ers
–CSN Bay Area
The 49ers and Yahoo! today announced that Yahoo! will be the exclusive online sports content, social networking, and photo and video sharing partner for Levi's Stadium and the San Francisco 49ers.
Infographic: Snapshot from IAVM's 2012 Sustainability Report
–IAVM
It has become abundantly clear that sustainability efforts within venues are not a trend, but are in fact a new staple of venue operations – and they are constantly becoming more extensive and innovative. Whether a venue incorporates green practices and programs to gain a marketing advantage, because it is a board priority, or it needs to meet a city mandate, the bottom line is, sustainability matters.
What's Next for Tradeshows?
–ASAE
Going to a tradeshow has usually meant donning your most comfortable business-appropriate shoes—conference tote bag and exhibit-hall map in hand—and setting out to navigate what feels like miles of fluorescent-lit aisles and thousands of booths filled with exhibitors eager to provide you with a product or service to solve your problems.
But that could be changing.
Improving Fans Access to Tickets for Live Entertainment and Sporting Events
–Huffington Post
Whether it's for Bruce Springsteen, Radiohead, or the New York Giants, New Yorkers seeking tickets to see their favorite performers or teams frequently find that tickets sell out just moments after the general public onsale begins. It's no secret that demand for tickets often exceeds a venue's seating capacity. Jay-Z sold out a staggering eight concerts when he inaugurated the Barclays Center last fall.
Most artists, of course, usually perform only one concert in each city they tour. With supply and demand so mismatched, is it any wonder tickets cost so much and sell out so fast?
$1.8 billion Economic Impact from New Detroit Red Wings Arena Vastly Inflated, Economists Say
–MLive
Time and time again, new stadiums or arenas in American cities either spur little to no new development around them, or the new surrounding development merely sucks business from elsewhere in the city or metropolitan area. That's according to economics professors, who say the economic impact numbers hung on a new, $650 million Detroit
Red Wings arena and entertainment district, revealed in greater detail Wednesday, will not only have a far less of an impact as stated by its proponents, but its impact in Detroit could be a wash.
Public Invited To First-Ever Rose Bowl Stadium Tours
–CBS Los Angeles
For the first time in nearly a century, the Rose Bowl in Pasadena will be hosting an open house Saturday.
Fans will get their chance to tour the Southern California historic landmark, which is currently undergoing an $181 million renovation effort, and walk through the same tunnels and along the same grounds which some of sports' greatest players and teams have graced.
Best Email Subject Lines for Exhibitor Follow-Up
–Trade Show News Network
After tradeshows, email marketing is arguably the most powerful channel for lead generation. Following email best practices is critical to closing sales after your event participation. Often, exhibitors are so weary after their events that they miss their window of opportunity and lose sales.
If you don't have a strong email marketing foundation, you'd better start building that knowledge. Let's start at the top, the subject line. The subject line is the most important element of your email. I know, that's a lot of pressure. This is because if your email doesn't get opened, none of the other elements (Body, Call to Action, Signature, Graphics) even matter.
What Has Become of New York City's Iconic Music Venues?
–Curbed
CBGB, The Kitchen, The Palladium, Studio 54—what became of all of these iconic New York City music and performance venues? Red Bull Music Academy has a fun site up answering that question with a timeline of NYC venues and what became of them now. Max's Kansas City, where Patti Smith, William S. Burroughs, and Allen Ginsberg hung out, is now a Korean Deli, Green Cafe.
The former downtown location of The Kitchen (which still operates its West 19th Street outpost) is now an eyewear boutique. The Palladium, where U2 played its first show, is now the site of NYU dorm—brace—Palladium Hall.
2015 Rugby World Cup: Premium Ticket Prices Will Subsidise Lower Ones
–The Guardian
The organisers of the 2015 Rugby World Cup have confirmed that the most expensive tickets for the final are likely to cost more than £700, but insisted that the "top-heavy" prices will help subsidise lower price points.
Utah Jazz, Miller Family to Enhance Sights, Sounds at Arena
–The Salt Lake Tribune
The kiss cam is about to get a whole lot more intimate.
The Utah Jazz on Monday unveiled plans for an upgraded audio and video system at EnergySolutions Arena, including upgraded high-definition screens above center court, LED (light-emitting diode) rings around the top of the lower bowl and auxiliary screens in the corners of the arena.
Tear Gas Fired Outside Stadium in Brazil, but Protest Still Spreads Inside
–The New York Times
Tear gas once again filled the air outside a gleaming stadium in Brazil as the police in the northeastern city of Fortaleza blocked an estimated 35,000 protesters from approaching the venue where the national team, known as the Seleção, met Mexico on Wednesday afternoon in a tune-up for next year's World Cup.
Lightning is Most Dangerous Hazard of Storms Rolling in This Week in North Texas, Stay Safe with These Tips
–Dallas News
Lightning, the most dangerous thunderstorm hazard, is responsible for an average of 42 fatalities yearly in the U.S. and an estimated 10 times as many injuries, according to a statement from National Athletic Trainers' Association.  About 48% of lightning fatalities occur during organized sports and 62% during recreational activities, according to 2010-2011 data from the National Weather Service.
Photo courtesy of alexthompson via photopin cc