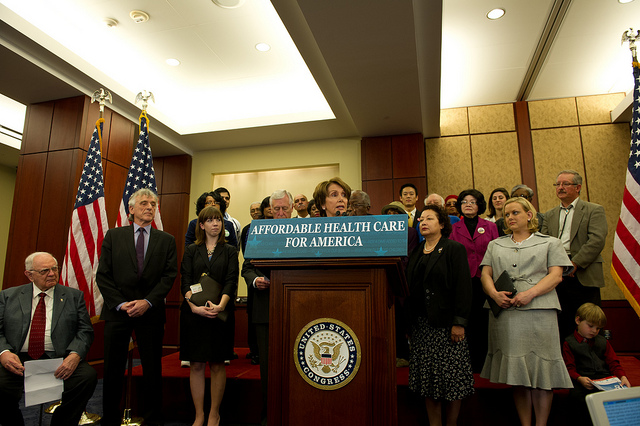 Affordable Care Act Law Gets One-Year Reprieve Before Enactment
–IAVM
The Affordable Care Act that was to become effective in January 2014 has been pushed back to a January 1, 2015 deadline. In short, the delay buys employers with 50 or more employees an additional year before they must offer medical coverage to their workers or pay a fine.
West Coast Floods of the Future Inundate Cities
–Discovery News
Pittsburgh-based artist and researcher Nickolay Lamm works to bring attention to topics he feels are being overlooked … his illustrations and animated GIFs depicting recognizable locations along the West Coast with water levels rising up to 25 feet.
Lamm's animated GIFs showing tourist destinations going underwater first emerged last spring but since then he's also released a series showing popular areas along the West Coast, PopSci's Shaunacy Ferro reported.
Convention Centers: Public vs. Private
–Meetings & Conventions
Why more cities are hiring management companies to run their facilities.
Seattle Seahawks Fans Will Seek to Break Guinness Record for Stadium Noise
–Yahoo! Sports
Like most football teams, the Seattle Seahawks have a rabid 12th-man fan contingent called "Volume 12." And like most fan contingents, Volume 12 wants to carve its name, or at least the name of its team, into history. And how does it plan to do that?
Why, by generating the loudest stadium noise of all time, of course.
Inside Arcology, the City of the Future (Infographic)
–Live Science
For over a century, writers and architects have imagined the cities of the future as giant structures that contain entire metropolises. To some, these buildings present the best means for cities to exist in harmony with nature, while others forsee grotesque monstrosities destructive to the human spirit.
In the mid-20th century, engineer and futurist R. Buckminster Fuller imagined city-enclosing plastic domes and enormous housing projects resembling nuclear cooling towers. These ideas are impractical but they explore the limits of conventional architectural thinking.
–Yahoo! Sports
It's every grounds crew's worst nightmare: A microburst hits unexpectedly, drenching the field and the tarp with so much moisture that it becomes too heavy to pull into place. Meanwhile, the infield saturates and completing the game becomes questionable. The crew of Yankee Stadium lived this in the fourth inning Monday night with the New York Yankees hosting the Kansas City Royals.
NFL Misguided in Bid to Improve Stadium Experience
–Boston Globe
A word of advice for NFL owners who are looking to fill seats at their stadiums: start emphasizing what makes the stadium experience great (camaraderie, passion, and live action) and stop trying to emulate the home experience.
Texas A&M Mulls Taxable Debt for Stadium: Muni Credit
–Bloomberg
The 137-year-old school expects to sell as much as $320 million of 30-year bonds later in 2013 for a $450 million project, less than a year after finishing fifth in the Associated Press national college football poll. Led by Heisman Trophy-winning quarterback Johnny Manziel, it was the school's best showing in more than five decades. The school is considering both taxable and tax-free debt, said Steve Moore, a vice chancellor.
Get Your Game On: Gamification at Your Trade Show
–Trade Show News Network
I recently attended the HITEC conference in Minneapolis, and I got to participate in the SCANVenger Hunt platform they had for attendees and exhibitors.  This was my first onsite gaming experience and something I really enjoyed and wanted to share with TSNN's readers.
Note: VenueConnect 2013 attendees can participate in a SCANVenger Hunt while onsite in New Orleans!
MLB Sponsor Pledges $1M To RBI Program If Side Is Struck Out In ASG's 2nd Inning
–Sports Business Daily
Third-year MLB sponsor Head & Shoulders is continuing its "Season of the Whiff" marketing campaign with a strikeout stunt during Tuesday's MLB All-Star Game. As an in-game enhancement supporting its Head & Shoulders with Old Spice extension, the brand is offering a $1M donation to MLB's RBI program if any pitcher strikes out the side during the second inning of the game.
Coventry City: Gary Hoffman Offer to Pay Ricoh Arena Rent Rejected
–BBC
Former Coventry City vice-chairman Gary Hoffman says his offer to help fund the League One club's Ricoh Arena rent for the next three years has been rejected.
Cross Banned from Mound at Busch Stadium
–USA Today
There's controversy at the mound at Busch Stadium, and it has nothing to do with who's pitching.
Last month fans starting seeing a cross etched into the pitcher's mound at the stadium. Since then, the club has asked that the etchings stop.
Vote for the MLB City with the Best Stadium Food
–USA Today
The nominations are in! We've received photos of delicious-looking ballpark food from across the country. Now we're taking it to the polls to let you decide the country's best ballpark food.
Federal Spending on Weather Event Preparedness Lagging
–Chicago Tribune
Federal spending on community preparedness for extreme weather events is a fraction of the amount paid to clean up damage from storms, tornadoes and drought, according to an analysis of federal data.
Photo courtesy of Leader Nancy Pelosi via photopin cc