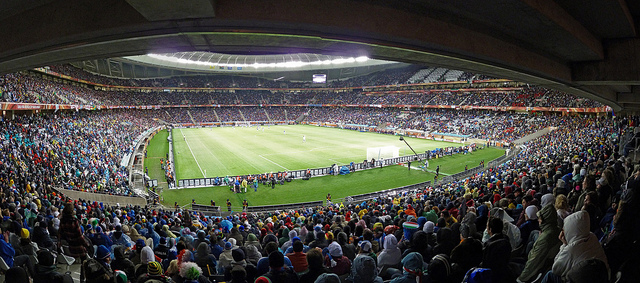 Hearing Opens on Stadium Rigging
–Fox Sports
A hearing opened Wednesday into collusion by construction companies that led to bid rigging and price fixing on projects for the 2010 South Africa World Cup.
A tribunal will decide whether to confirm fines totaling $147 million for 15 companies that agreed to "rigged" projects in the general construction industry in South Africa from 2006-11.
Music Festivals, Bluetooth Monitoring and the Behavior of Crowds
–MIT Technology Review
The unexpected behaviour of crowds at one of Europe's largest music festivals should help organisers plan future events, say researchers.
The Roskilde Festival is one of the biggest music festivals in Europe. It takes place over eight days during the summer in Denmark and attracts well over 100,000 people every year.In 2011, Jakob Eg Larsen and pals from the technical University of Denmark set up a curious experiment to observe the patterns of behaviour among festival-goers using Bluetooth technology.
5 Easy Ways to Reduce Your Carbon Footprint at Tradeshows
–Trade Show News Network
Tradeshows are a great way to reconnect with your existing clients, while also reaching out to new customers. We all know that these events take a lot of planning and organization, but your hard work really pays off when you build your brand and expand your customer base. Tradeshows also can take a toll on the environment, though, as they are responsible for generating tons of waste. In fact, according to data from Smash Hit Displays, the tradeshow industry is second only to the construction industry in the amount of waste we create.  So what can we do?
Here are five easy ways to reduce your carbon footprint at tradeshows and give the environment a break.
Selig Discusses Rays' Stadium Issues
–MLB.com
Commissioner Bud Selig said on Tuesday the Rays' stadium and attendance issues at Tropicana Field are "economically not tolerable" and "beyond disappointing."
"It's very disappointing and very worrisome," Selig said. "The first thing I do every morning is look at attendance at every game. It's beyond disappointing. [The Rays] have been so competitive and have really done a marvelous job in a situation that is economically not tolerable."
Phoenix Officials Fear Tax-funding Cut: Convention Center Provisions
–Meetings & Conventions
Phoenix officials are concerned the city will lose some of its state-shared tax funds beginning next year, according to news reports. At issue is a clause in a deal signed a decade ago, when the state agreed to pay half of the $600 million needed to expand the Phoenix Convention Center. That clause allows the state to withhold sales-tax revenue from the city if the center's projections of the number of events and related attendee spending falls short. According to the agreement, an economic impact study on the project is to be conducted next year, five years after the expansion opened.
 X Games Austin Announced
–ESPN
Austin, Texas, the so-called Live Music Capital of the World, has been selected to host one of six stops on the Global X Games circuit for the next four years, ESPN announced Wednesday.
Richard Breslin talks about the Margaret Court Arena Redevelopment, designed by NH Architecture and Populous
–Populous
The great success of this year's Wimbledon is over, and it's now just over six months until the Australian Open. Work is continuing apace on the latest redevelopment phase at Melbourne and Olympic Parks, where Margaret Court Arena is undergoing transformation to create the precinct's third all-weather arena.
Miami Beach Convention Center: ACE and Rem Koolhaas Picked For Redevelopment
–Miami New Times
After months of heated arguing, slick production pitches and a last minute curveball from the city manager, Miami Beach has finally chosen a team to redevelop its convention center and spearhead SoBe's biggest project in decades. The winner is ACE, the team fronted by Prinzker Prize-winner Rem Koolhaas.
The ACE team will start hammering out details with the city on the $600 million, 52-acre behemoth of a plan to add retail, a hotel and green space while also overhauling the convention center itself.
Policy Change Could Save Victorian Live Music Venues Hundreds Of Millions In Overheads
–MusicFeeds
Music Victoria have released the findings of an independent investigation that has discovered that a slight change in state government policy would result in Victorian live music venues saving millions of dollars in costs. Should these policies be changed, the Victorian live music scene could once again flourish now Music Victoria has gone in to tackle the issue.
The Sports Stadium Map Is The Only Map You'll Ever Need
–SportsGrid
Who needs things like "other landmarks," or "countries," or "cities?" A fantastic redditor took a map of North America and put stars in every spot where there's either an NFL, NBA, MLB, NHL or MLS stadium/field/arena. We'll forgive him for his inclusion of MLS; he was just being nice.
Nashville Predators Now have Yellow Ice at their Arena
–USA Today
The Nashville Predators painted the ice gold at Bridgestone Arena this week, a little bit of fun for a group of kids who are coming to a summer hockey camp there.
If the World Cup and the Olympics have Visited your Country, Trouble Can't be Far Behind
–Quartz
You know how the old saying goes: if the International Olympic Committee and FIFA have already visited your country, the IMF can't be far behind.
Okay maybe it isn't an old saying. Or a saying at all. But it will be one enough. Soon, if the world has any sense at all, countries will start writing "WE WILL NEVER BID FOR A MAJOR GLOBAL SPORTING EVENT EVER" into their constitutions.
Hundreds upon thousands of Brazilians have vigorously informed their government that they simply do not approve of the insane amounts of money being spent on preparing the nation for the World Cup. The Brazilian government will spend an estimated £18 million ($27 million) on building and rebuilding stadia for the 2014 FIFA World Cup. It will then have to spend many billions more to prepare Rio de Janeiro for the 2016 Olympic Games.
Congratulations 2013 Women of Influence!
–Venues Today
IAVM members Adina Erwin and Kim Stone receive honor
Venues Today magazine will be honoring these women in the seventh annual Venues Today Women of Influence Awards! The chosen three women are mentors and leaders and have made a difference in the sports, entertainment, fair and meetings industries. We'll be highlighting their accomplishments in our upcoming July issue.  Congratulations Adina, Maureen and Kim!