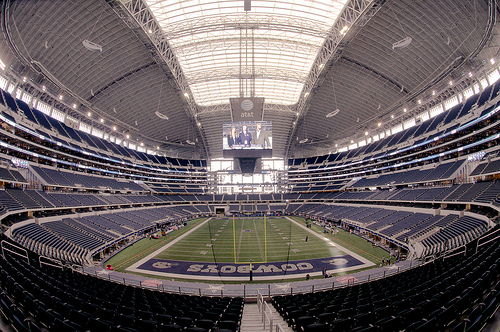 Cowboys Stadium No More: With Deal, It Is Now AT&T Stadium
–NPR
After what is rumored to be a multi-million dollar naming deal, the iconic Cowboys Stadium will called AT&T Stadium from now on.
In a press release, AT&T said part of their attraction to the deal was that Dallas is their home. Cowboys owner Jerry Jones said in a statement that the naming deal ties the team with "one of the world's strongest and most innovative companies."
Allied in Safety
–Steven A Adelman, Journal NFPA
For NFPA members who are immersed in safety training every day, the concept of "life safety first" is so fundamental that it hardly needs to be articulated.
Yet, despite advances in every aspect of safety technology and training, the list of catastrophes associated with live events around the world continues to grow, from outdoor stage roof collapses to nightclub fires to crowd-crush incidents. Clearly, important parts of the message are being lost between existing regulations, codes, and guidelines and the boots on the ground.
IBTM Research: Meeting Planners Report Increased Events, Attendance, Budgets
-SuccessfulMeetings.com
U.S. meeting planners are planning more meetings with bigger budgets attended by more attendees. So finds the second edition of Reed Travel Exhibitions' (RTE) IBTM Global Meetings Industry Research for the Americas, published this week at the Americas Incentive, Business Travel & Meetings Exhibition (AIBTM) in Chicago.
Teams Use WealthEngine for Suite Sales
–Venues Today
Firm's foray into sports and entertainment has produced results for teams like the San Francisco 49ers
Though WealthEngine has been around for more than two decades, the analytics, research and marketing company based in Bethesda, Md., has only recently gotten into the sports game. As big data and analytics make their way from the clubhouse to the front office, WealthEngine has created a new tool for helping teams price their suite and premium seating inventory, inking a deal with the San Francisco 49ers in 2010 through Legends Hospitality Group, which has a sales consulting contract for the National Football League team.
Sporting Kansas City Makes the Stadium More Like Your Couch
–Bloomberg Business Technology
When Robb Heineman took over as chief executive officer of the Major League Soccer franchise in Kansas City, in 2006, the team barely registered even in its local market. Despite reaching the MLS championship game a couple of years earlier, the Wizards had the league's worst attendance, often filling fewer than 10,000 seats at 77,000-capacity Arrowhead Stadium, also home of the NFL's Chiefs.
A dot-com private equity veteran, Heineman wasn't an obvious savior. His last gig in sports had been tearing tickets as a teenager for a minor league basketball team in his hometown of Sioux Falls, S.D. Shortly after taking the Kansas City job, he wrote on fan forum BigSoccer.com: "Please help me, I don't know what I'm doing."
10 Stadiums You Need to See Before You Die
–Bleacher Report
Silverdome owners pitch plan for MLS stadium, mall, condos on jail site
–Crain's Detriot Business
The Toronto-based owners of the Pontiac Silverdome have submitted a bid for the Wayne County justice department sites in hopes of opening a stadium for a Detroit Major League Soccer team, along with a mall, residential space and office towers.
Triple Properties Inc. is seeking to acquire the five current justice properties, including the half-built jail site, plus the former Detroit Police Department headquarters at 1300 Beaubien St., said Steve Apostolopoulos, co-founder and managing director of Triple Properties.
Mayor Gray, D.C. United Reach Tentative Deal on Soccer Stadium for Buzzard Point
–Washington Post
D.C. United executives and District officials have reached a preliminary $300 million deal to build a 20,000-seat stadium for the team on Buzzard Point in Southwest Washington.
The agreement, team and city leaders said, could end a decade-long search by the Major League Soccer franchise for a new venue that would allow it to leave RFK Stadium, where D.C. United has played since its founding in 1996 but where its investors say the team loses money every year.
State OKs up to $450M for Wings Arena Project
–Detroit Free Press
The Michigan Strategic Fund board approved issuing up to $450 million in bonds to finance construction of a $650-million project that will include a new arena for Detroit Red Wings hockey and other events, plus $200 million more to develop the 45-block area between downtown and Midtown.
Photo courtesy of A. Vandalay via photopin cc