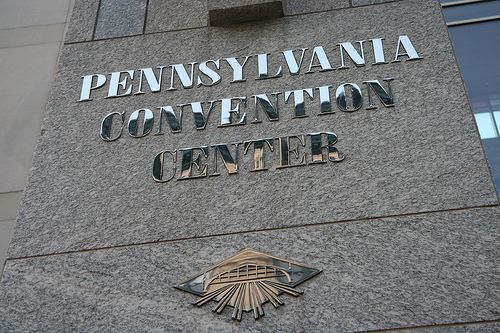 Carpenters' Strike Resolved at Pennsylvania CC; One-year Contract Extensions Signed with Six Unions
–Trade Show News Network
Less than a day after members of Local Eight of the United Brotherhood of Carpenters and Joiners of America, who work at the Pennsylvania Convention Center in Philadelphia, went on strike and threatened a 10,000-attendee medical meeting set to come into the center, the crisis was averted.
Union officials for all six unions that work in the building and the Pennsylvania Convention Center Authority, which oversees it, signed one year collective bargaining agreement extensions.
To provide a safer environment for the public and significantly expedite fan entry into stadiums, NFL teams will implement an NFL policy this year that limits the size and type of bags that may be brought into stadiums.
The NFL Committee on Stadium Security in May unanimously recommended the implementation of this measure that will enhance public safety and make it easier for fans to gain access to all stadiums. The recommendation was discussed with all 32 teams at a league meeting in May and will be implemented at all NFL stadiums beginning with preseason games.
Venue Excellence Award Winners Named During VenueConnect 2013
–IAVM
The 2013 Venue Excellence Awards were presented in New  Orleans, La., July 29 at VenueConnect, IAVM's 88th annual conference and trade show. These prestigious awards recognize venues including stadiums, convention centers, arenas, and performing arts centers, and academic institutions that demonstrate excellence in the following four criteria: service to the community, team building/professional development, safety and security, and operational excellence.
Power Ranking Every College Football Team's Stadium
–
Bleacher Report
There are certainly some college football stadiums that are a cut above the rest.
Unlike most other sports, the differences and variety from one stadium to the next is immense.
Home-field advantage is seen as more important in college football than any other sport. Some teams feast at home with crowds of more than 100,000, while others have trouble drawing even 20,000.
Chris Kibler Named Assistant General Manager of Intrust Bank Arena
–Wichita Business Journal
Chris Kibler, director of finance for Intrust Bank Arena, has added the title of assistant general manager.
SMG, the company that manages the arena for Sedgwick County, made the announcement Tuesday.
IRG Sports + Entertainment Buys Tucson Drag Strip
–Drag Racing Magazine
IRG Sports + Entertainment™ (IRG) has acquired Southwestern International Raceway (SWIR), formerly Merle's SIR Dragway, located in Tucson, Arizona.
IRG recently formed, merging the assets of the IHRA, Palm Beach International Raceway and Memphis International Raceway, with the express purpose of expanding their track holdings and promoting events.
Disney Researchers use Encoded Audio Signals to Provide 'Second Screen' Experiences at Most Venues
-Disney Research
Providing a "second screen" experience for audiences at movie theaters, stadiums and other public venues need not require a special wireless infrastructure. Instead, a system developed by Disney Research, Zürich, uses the venue's regular sound system to transmit text, games or other information to smartphones using only an audio signal.
The smartphones carried by many audience members provide not only a means for viewing content that supplements a movie or sporting event, but comprise an ad hoc microphone network that helps transmit the content among all of the participants in the venue.
Organic Stadium Garden Supplies Baseball Fans With Fresh Produce
-PSFK
Fresh fruit and vegetables might not seem like the most traditional thing to munch on at a baseball game, but the San Francisco Giants plan to be the first team with an organic garden in right in the middle of their stadium.
The "Giants Garden" will be a 3,000-square-foot organic garden planted behind the center-field wall, as well as the space between the left- and right-field bleachers. It would replace space that is mostly filled with concrete right now – as well as become the first such facility at any professional sports venue in the United States.
Stadium Specialist Populous Also No. 1 in Convention Center Design
–The Kansas City Star
So much for Populous being a one trick pony, albeit the biggest in the business when it comes to sports architecture. It turns out the Kansas City firm has another major league skill in its repertoire.
The latest survey by Building Design & Construction, a national trade publication, ranked Populous No. 1 when it comes to sports architecture with $69 million in revenue last year. No surprise there.
But what's this?
Populous also was No. 1 for convention center design with $15 million in revenue. And the firm was the ninth largest architecture firm overall in the nation, according to the publication's "2013 Giants 300" report, with $84 million in revenue.
The 5 Hottest NFL Teams of 2013, According to Ticket Prices
–For the Win
The NFL season is finally here and people are pretty excited.
One way to gauge the excitement is to look at ticket prices on the secondary market. The following chart compares the teams that had the greatest change in average ticket prices on the secondary market from 2012-2013. The prices come from TiqIQ, which aggregated ticket listings from about 15 different sellers to come up with these numbers.
Most Brands Aren't Budgeting For Innovation
–Ad Age
Only 11% of marketers set aside a specific budget for marketing innovation efforts, and only 9% make marketing innovation a part of every marketer's budget, according to a recent Forrester survey. Yet 95% of these marketers agreed that they are achieving positive ROI from their innovation programs. Why the disconnect? Mastering marketing innovation is getting harder and harder due to the ever-changing customer landscape caused by digital disruption, perpetually connected customers and shifting customer expectations.
A Golf Course Experiment: Why Not Five, Seven, 12 Holes?
–Wall Street Journal
Anyone who shows up at Island Hills Golf Club here without clubs can use a top-of-the-line set from Adams Golf at no charge, with a few balls thrown in for good measure. Need a lesson? You can get one free, including a free mini-round and $5 credit in the restaurant. Families play free on Sundays after 4 p.m. Kids under 13 play free anytime when accompanied by a paying adult. Replay rounds are less than half price.
But Island Hills' most out-of-the-box innovation is its Quik Courses—designated loops within the 7,074-yard championship layout that golfers can buy a la carte. Depending on how much time they have, they can play five-hole, seven-hole, nine-hole, or 12-hole rounds.