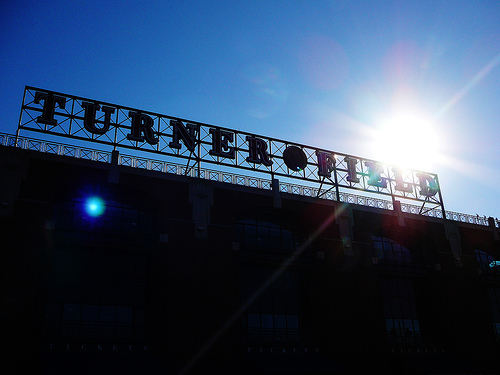 Fan Dies After Fall At Turner Field
–ESPN
The mother of a Georgia man who died after falling from an upper-deck platform at Turner Field in Atlanta says her son was a lifelong Braves fan who followed the team through losing seasons as well as winning ones.
Ronald Lee Homer Jr., fell about 65 feet at Monday night's game between the Atlanta Braves and Philadelphia Phillies, which had been delayed for nearly two hours by heavy rain, authorities said.
See also: Despite Safety Measures, Stadium Falls Occur
Dallas Cowboys to Partner with Texas School District on New Indoor Dome
–Dallas Morning News
The Dallas Cowboys are known for their international brand and high profile partnerships. The stadium rights deal that will re-name Cowboys Stadium as AT&T Stadium is just the latest example, falling after the likes of the Yankees (with Legends Hospitality).
Yet, the Cowboys' newest partner brings a significantly lower profile. In the years ahead, the Cowboys will be co-tenants of a to-be constructed indoor football facility being constructed to specifications set by the Frisco Independent School District.
Live Nation's New Groove: Electronic Dance Music and Scalped Tickets
–Bloomberg Business Week
In November, the electronic dance music (EDM) concert promoter Hard Events will host a two-day Dia De Los Muertos-themed festival called Hard Day of the Dead in Los Angeles. The extravaganza will feature over 25 DJs and dance acts, including EDM heavyweights Skrillex, Calvin Harris, and Deadmau5. If you want tickets, you can buy them through Live Nation Entertainment (LYV).
Can Facilities Keep up with Wireless?
–Sports Business Daily
Mercedes-Benz Superdome executive Dave Stewart peers into the future of sports and sees a point in time when every NFL fan's mobile device is automatically connected the moment they walk through the stadium gates.
They will have exclusive content delivered to their devices, Stewart said, which could include listening to New Orleans Saints coach Sean Payton relay play calls to Drew Brees through the quarterback's helmet microphone, or using their smartphone to find out how long it takes to buy a hot dog at the concession stand.
Execs Prefer Smartphone Scan For Venue Entry, Apps For Ordering In-Seat Concessions
–Sports Business Daily
Sports execs are beginning to prefer a smartphone scan versus a paper ticket as the way to enter a sporting event, according to a Turnkey Sports poll. Forty-six percent of respondents said they preferred a smartphone scan, compared to 30% saying paper ticket.
The State Fair Didn't Find a Taker for Cotton Bowl's Naming Rights. Will Adding Fair Park Coliseum to the Deal Help?
–Dallas News
In 2008 the Dallas City Council agreed to let the State Fair of Texas pursue naming rights for the Cotton Bowl, known solely as the Cotton Bowl for 83 years. But, clearly, that didn't take; it's still the Cotton Bowl. Still, the State Fair's not ready to give up, especially in the wake of Jerry Jones' rechristening Cowboys Stadium "AT&T Stadium" for the right price.
A Process of Continuous Innovation: Centralizing Analytics at Caesars
–MIT Sloan Management Review
With a MIT-trained economist and former Harvard Business School professor at the helm, Caesars Entertainment has become the poster child for how analytics can work successfully in the enterprise. CEO Gary Loveman is vocal — and frank — about his organization's reliance on analytics to guide business strategy, operations and innovation.
But even Caesars has had to readjust at times.
How Millennials Are Influencing a New Era of Digital Marketing [Infographic]
–CMS Wire
Millennials are ruining everything. They don't behave like other consumers. Their expectations for engagement are higher than others. They want to be valued and they expect companies to be transparent about their intentions. For brands everywhere, the millennial generation is changing the way they market online, how they engage across social media and the digital tools they employ.
bXb Online Launches BOB.tv at American Society of Association Executives Annual Meeting & Exposition
–Trade Show News Network
Have you ever wondered where you could go to see a ton of different videos and other content related to not only your work, but also your career and life?
bxb Online recently launched BOB.tv – Best of Business, an online learning destination for business professionals, at a press conference held Aug. 5 at the American Society of Association Executives Annual Meeting & Exposition in Atlanta.
Green Sports Alliance & USGBC Team up to Advance Sports Greening
–US Green Building Council
In the early summer of this year, the Green Sports Alliance officially teamed up with the U.S. Green Building Council in an effort to advance the development and promotion of green building initiatives in professional and collegiate sports. The partnership with USGBC allows the Alliance to continue its undertaking to accelerate the green sports movement – co-developing valuable resources for member teams, venues and leagues, and connecting with them around engagement opportunities including the LEED green building rating system and Green Apple Day of Service. Each organization is committed to featuring the work of the other and increasing mutually beneficial engagement opportunities.
Devices Connect with Borrowed TV Signals, and Need No Power Source
–MIT Technology Review
Devices that can make wireless connections even without an onboard battery could spread computing power into everything you own.
A novel type of wireless device sends and receives data without a battery or other conventional power source. Instead, the devices harvest the energy they need from the radio waves that are all around us from TV, radio, and Wi-Fi broadcasts.
X Games Chooses Austin
–Venus Today
For the past 11 years, the X Games have been a staple of summer in Los Angeles. But in 2014 the extreme sports event will head to the heart of Texas.
X Games' producers ESPN announced that Texas' state capital Austin has been selected to replace Los Angeles as its new North American home. The action sport event, which includes motocross, car racing, skateboarding and biking competitions, will be held May 15-18. In the past, its summer X Games have been scheduled for early August, but Texas' hot summer weather forced the change.
IBM Developing New Wind And Solar Forecasting System
–Today's Facility Manager
IBM has announced an advanced power and weather modeling technology that will help utilities increase the reliability of renewable energy resources. The solution combines weather prediction and analytics to forecast the availability of wind power and solar energy more accurately. This will enable utilities to integrate more renewable energy into the power grid, helping to reduce carbon emissions while significantly improving clean energy output for consumers and businesses.
"Utilities around the world are employing a host of strategies to integrate new renewable energy resources into their operating systems in order to reach a baseline goal of a 25% renewable energy mix globally by 2025," said Vice Admiral Dennis McGinn, President and CEO of the American Council On Renewable Energy (ACORE). "The weather modeling and forecasting data generated from HyRef will significantly improve this process and in turn, put us one step closer to maximizing the full potential of renewable resources."
Designing a Haven for College Football Fans: Baylor and Beyond
–Populous
Summer is winding down, and with the end of one of my favorite seasons comes the beginning of my next favorite season, college football season.  You won't find that season indicated on most calendars but, for many college grads, it is a staple on their personal calendars.  As a longtime college football fan, it is also a great time of year to be a Populous architect.  It isn't very often that your career can coincide with your favorite sport.
This season is especially exciting as we watch numerous college football stadiums we've designed begin to take shape. While they may not be completed yet, they carry with them their own sense of hope, as each are promising additions to their campuses that depict the tradition, identity and culture of their schools.
SISO Leadership Rebukes N.Y. Governor's Decision to Give Boat Show Preferential Dates at Javits CC
–Trade Show News Network

Less than a week after New York Gov. Andrew M. Cuomo announced the annual Progressive Insurance New York Boat Show not only signed a new contract at the Jacob K. Javits Convention Center in New York City through 2019, but also was being switched to a mid- to late-January timeframe, which will displace several other trade shows, Lew Shomer, executive director for the Society of Independent Show Organizers, sent a letter to the governor rebuking the decision.