Industry Is Angered Over Move by Cuomo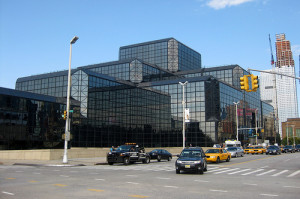 -The New York Times
Matthew Barbara, regional president of Marine Max, the largest boat dealer in New York, was contemplating pulling out of the century-old New York Boat Show at the Jacob K. Javits Convention Center.
Attendance had fallen sharply, and it was not worth hauling 40 or 50 Boston Whalers, Sea Rays and other pleasure boats to the Manhattan show. He had asked for dates that he felt were more favorable, and had been rebuffed.
But he did not pull out. Instead, he called Gov. Andrew M. Cuomo.
"I got lucky; he actually picked up the phone," Mr. Barbara said. "I explained what's going on; the amount of business we're losing, the sales tax we collect and the amount of people we're letting go. I explained it to him, and he made it happen."
The governor — whose love of outdoor sports and the lakes of upstate New York is well known — intervened. The boating industry got the dates it wanted in January, and even a September event on the Hudson River.
But there was a problem. The new dates for the boat show meant that five other trade shows and conventions had to be moved to less favorable dates. And those shows have an arguably greater economic impact.
See also: IAVM Letter to Governor Cuomo in Support of Javits Convention Center
NFL Stadium Falls Leave One Dead, Two Injured
-NBC News
A football fan tumbled to his death from an elevated walkway outside Candlestick Park, moments after the San Francisco 49ers kicked off their final season home opener at the stadium.
In a separate incident, two people were injured Sunday when a railing collapsed as the Colts played the Raiders in Indianapolis.
Why Stadiums Are Safer Than You Think
-Discovery News
Stadiums are safer than you think. For sure, recent deaths by fans at Candlestick Park in San Francisco and Atlanta's Braves Field in the past month may seem like a gruesome trend. But the reality is that going to a football, baseball or even race car track with tens of thousands of other spectators is a safer bet than say fishing, or even playing golf.
Three Convention Center Technology Trends to Watch
-Expo
Michael Lockwood, a convention center designer, shares his thoughts on what features the convention center of the future will include.
Technology is, and will continue to be, a driving factor in the innovation behind convention center design. It's shaping the modern facility, impacting the attendee experience and ease of operation for owners, operators and planners.
12 Jobs on the Brink: Will They Evolve or Go Extinct?Here are the three technology trends that are most significantly impacting the design of tomorrow's venues.
Undercover Cops Will Pose as Opposing Team Fans at Seahawks Games
-TIME Sports
In an effort curb unruly fan behavior, the Seattle Seahawks announced Wednesday that undercover Seattle police officers will wear opposing team apparel at games, beginning with Sunday's game against the San Francisco 49ers.
The Seahawks hope the plan will ensure a safe environment for all fans, and especially those of the visiting team, who sometimes become the victims of verbal or physical abuse. Any rowdy fans asked to leave by police or staff members will have to complete a four-hour educational course at their own cost before they can attend any events at the stadium again, according to ESPN.
Technology Gets Fans Talking
-Venues Today
University stadiums are utilizing technology to further leverage social media and get fans talking
Three university sports venues are now utilizing technologies leveraging social media to further engage fans, attract promoters and provide added visibility at and for their facilities.
Last Friday, Arizona State University (ASU) launched a social media platform that drives content from Twitter, Instagram and other media to its football stadium's jumbotron during games.
How to clean MetLife Stadium: A Beginner's Guide
-NJ.com
Henry Rzemieniewski's job is to clean up after 80,000 people.
Rzemieniewski is the cleaning operations manager at MetLife Stadium. After the Jets or the Giants or Bon Jovi play the stadium, he and almost 200 workers are responsible for the stadium's 2.1 million square feet of floor area.
The first level of the stadium contains a locker room for the Jets, a locker room for the Giants and locker rooms for each of their visitors. There are also locker rooms of sorts for the cleaning crew: the trash dock, home to two recycling compactors, a compost compactor and two cardboard balers; the cleaning operations area, where vacuum cleaners, the power washers and the scrubbers wait.
How to Increase Traffic to Your Tradeshow Booth
-Trade Show News Network
As an event organizer, retaining exhibitors is an important goal. What keeps exhibitors happy and keeps them coming back? Attendees.
Let's consider how we can get attendees and exhibitors engaged with one another in a meaningful way. "Stamp my card" so I can qualify for a prize drawing is not a meaningful way. "Give me a pen" is not a meaningful way. "Hi, I see you are from Sheboygan", is not a meaningful way.
FC Dallas and Toyota Agree on Stadium Naming Rights
-NCB Sports
FC Dallas have confirmed a long term deal with Toyota to name the club's venue "Toyota Stadium."
With the deal, FC Dallas has put an end to a year and a half long streak where the 20,500 seat stadium was without a sponsor. The stadium, which opened in 2005, was originally known as Pizza Hut Park but that deal ended when the naming rights expired in January, 2012.
Service & Maintenance: Lighting Retrofits With LEDs
-Today's Facility Manager
Out with the old, in with the new. It's an age-old phrase to be sure, and one that is quite relevant when discussing the challenges to existing lighting industry practices brought on by the increasing popularity of LED technology. Even though many LED products resemble modern works of art with their innovative designs when compared with conventional lighting products, their beauty is more than skin deep.
There has never been a better time to consider a facility retrofit with energy efficient LED lamps. Employing this type of lighting will result in reduced energy consumption and virtually eliminate maintenance costs. In most cases, these improvements will pay for the LED lamps within as little as one to two years.
12 Jobs on the Brink: Will They Evolve or Go Extinct?
-Salary.com

Once upon a time good employees updated their job skills and advanced to the next career level with the regularity of Mario questing for Princess Peach.
But then technology proliferated, and the well-read encyclopedia salesman, savvy VCR repairman and worldly travel agent either faded away or morphed into updated versions of their former selves.
See slide 5: Upms and refs
Intelligent Venue Solutions delivers smart access control to Goodwood Revival
-Event Industry News

This weekend sees Intelligent Venue Solutions conclude its summer events season in style, returning to Goodwood Revival, the world's largest historic motor race meeting. This magical event is the only one of its kind to be staged entirely in the nostalgic time capsule of the 1940s, 50s and 60s.
Yet its access system, using our In-Site smart wristband technology, couldn't be more cutting edge. Using wristbands supplied by our friends at ID&C, visitors will be able to 'leave the modern world behind' (and rejoin it afterwards) faster than ever before.