Leiweke Opens AMC with Call For Change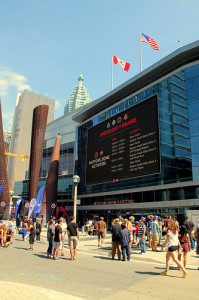 -Venues Today
Newly-appointed Maple Leafs boss Tim Leiweke delivered a rousing keynote address to open the Arena Management Conference here Monday, warning the capacity crowd that failure to confront the challenges facing the entertainment industry could have devastating consequences.
"The only difference between a rut and a grave is the size of the hole," said the Maple Leaf Sports and Entertainment President and CEO, who's been on the job since April. Leiweke's all-inclusive speech addressed everything from his spate of firings at MLSE, to the ticketing industry, the newly managed Forum in Inglewood, Calif., Irving Azoff's deal with Madison Square Garden Chairman James Dolan and the possibility for the relocation of an NFL franchise — to Toronto.
NCAA Announces Bidding has Begun for Future Final Fours
-CBS Sports

How long does it take to decide who gets a Final Four? Well over a year. The NCAA announced Thursday that the bidding process for the 2017, 2018, 2019 and 2020 Final Fours has begun. The winners of those four bids will not be announced until November of 2014, though any cities that want in on the festivities have to submit their intention to bid by Oct. 11 — three weeks away. Official bids, including a budget, hotels/hotel rates and other criteria have to be submitted by Nov. 15.
What Uses More Electricity: Liberia, or Cowboys Stadium on Game Day?
-Wall Street Journal

After the first full week of NFL games, football fans are asking the big question: Does Cowboys Stadium consume more electricity than the West African country of Liberia?
Well, maybe just one football fan. But that fan, Bob Brackett, is an energy analyst at Bernstein Research. Mr. Brackett took issue with Liberian President Ellen Johnson Sirleaf's statement in Foreign Policy that the heart of Texas football (sorry, Houston Texans) does indeed use more power than the nation of 3.7 million people.
Artist Embeds NFC Chip in Hand to Share Digital Art
-NFC World

Digital artist Anthony Antonellis has embedded an NFC-compatible RFID chip in his hand as a way of sharing his artwork with others.
The 1KB chip was implanted between Antonellis' thumb and forefinger and holds an NDEF message containing a URL that points to a website which hosts a small animated GIF image. The chip also contains the image as a downloadable file, says the artist, which can be read or replaced using an app.
ESA and TAKE1 Insurance Host Webinar on Live Event Safety
-Theatre Safety Blog
Asserting that the live event production industry can no longer take a passive approach to life safety, Take1 Insurance, the leading insurance provider to the entertainment industry, today announced that it was teaming up with the Event Safety Alliance (ESA) to host the industry's first webinar focused on producing safer live events. According to Scott Carroll, Executive Vice President and Program Director of Take1 Insurance, the precedent-setting webinar will take place on b>Wednesday, November 13, 2013 at 2 p.m EST and is open to anyone involved in the business of producing and staging live events.
Tower Infinity in South Korea to be the World's First Invisible Skyscraper
-National Post
The world will soon have its first "invisible" skyscraper.
There's no construction date yet for the planned 1,476-foot tower, called Tower Infinity. But its architects have just been granted a construction permit to begin building outside of Seoul, South Korea near Incheon International Airport.
The visionaries behind the project, GDS Architects, will make the tower appear "invisible" using an LED facade system with optical cameras to display what's directly behind the building. When turned on, the "reflective skin" of the building will give the illusion that Tower Infinity is blending in with the skyline.
Seating an Important Component of a Sports Venue Renovation
-Athletic Business
Arena renovation is a hot market. And with college athletic departments looking for ways to extend the life of their venues, those renovations are usually extensive and involve adding high-quality amenities, premium seating, open concourses and even a new seating bowl.
Seating remains the most important component of a venue — whether an Olympic stadium that holds 80,000 or a 1,200-seat Division III college arena — but it also remains the most overlooked. The impact of premium seating, the science of seating and how seating is configured have evolved significantly over the past 50 years, reflecting changes in the expectations and demands of today's sports fans, as well as how they socialize.
University of Michigan Athletics Paid for 'Go Blue' Skywriting over Spartan Stadium
-MLive.com

University of Michigan athletics paid thousands of dollars for a skywriter to etch "Go Blue" in the skies over East Lansing before Michigan State kicked off against Youngstown State on Saturday.
Suzanne Asbury-Oliver, who runs Oregon Aero SkyDancer skywriting with her husband Steve, told MLive the Wolverines'™ athletic department hired her business to put Michigan slogans into the air above Ann Arbor then East Lansing on Saturday.
Why Twitter Dominates the Social Sports Arena
-Tech Hive
It's the big game. You've got your jersey on, HDTV tuned to the proper channel, and your smartphone in hand. It's not quite like being in the bleachers at the stadium, but with surround-sound, snacks, and social media, it might be even better.
Sporting events and Twitter go together like beer and bratwurst. The edge-of-your-seat drama and the ridiculous commercials lend themselves to rapid-fire tweets—plus Twitter's town-hall nature generates the kinds of conversations you might have with strangers at a game.
Cosmopolitan Social Club to Come
-USA Today
The property that introduced us to living out "just the right amount of wrong," The Cosmopolitan of Las Vegas welcomes its latest addition to Las Vegas nightlife, Rose.Rabbit.Lie., in late December.
The venue with the curious moniker isn't exactly a nightclub, nor is it bar, or a restaurant — it's somehow all of these things without being confined by any of their trappings. The Cosmopolitan is referring to Rose.Rabbit.Lie. as a social club. While there are entertainment and dining elements to Rose.Rabbit.Lie., The Cosmopolitan considers this a social experiment, one that plays with visitors' expectations for a night out.
NHL Goaltender Goes Green
-Bloomberg TV
Former NHL All Star and U.S. Hockey Hall of Famer Mike Richter has founded investment firms that help businesses improve their environmental efficiency. Richter tells Sportfolio's Rick Horrow why sports can be an effective platform for advancing green initiatives. Richter also discussed role with IAVM partner Green Sports Alliance.
Mark Halsey Fears an Under-pressure Official Could Take Own Life
-BBC Sport
Halsey, 52, retired at the end of last season, and made the claim in his book, which is being serialised in the Sun.
"It will not be long before a referee has a nervous breakdown," he said.
"I also believe that if we do not do something to help referees with mental health and stress issues, then we could see a suicide."
Musical Robots Take The Stage For Harmony, Not Domination
-NPR
Robots aren't taking over the planet yet, but they are doing jobs in more and more places: hospitals and offices, movie sets and battlefields. They're making a mark in the world of music, as well.
When it comes to heavy metal, one group has claimed the title of "the world's heaviest metal band." The robot band designed to play real instruments. Stickboy, the four-armed, mohawked, headbanging drummer, even has a mini-me holding up the hi-hat. The guitarist, Fingers, has 78 hydraulic fingers — wires stream out from the arms to trigger notes along the entire fretboard. Bones is on the bass.
Vikings stadium: Why Electronic Pulltab Gambling Flopped
-MPR News
Gamblers would love electronic pulltabs. Cash would flow and the state's cut from the new games would pay the public share of a new Vikings stadium. That's what Gov. Mark Dayton and other politicians predicted.
A year later, that billion-dollar promise has mostly been a bust. Revenue is down nearly 100 percent from projections. Bar owners dismiss e-pulltabs as not worth the cost and hassle to install. Gamblers say the electronic games just aren't that much fun.