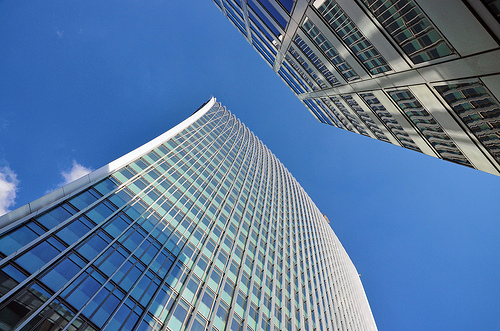 7 Architectural Sins Committed Around the World
-Huffington Post
With the recent news that Rafael Viñoly Architects' 20 Fenchurch Street (or the "Walkie Talkie") in London has been producing an unusually hot solar reflection, dubbed the "Death Ray," we've put together a list of seven architectural blunders around the world — from the worrying to the downright absurd.
See also: Towering New Skyscraper in London Blamed for Melting Cars, Setting Fires
New California Law Targets Massive Online Ticket-scalping Scheme
-The Christian Science Monitor
A new California law makes it illegal to use software to trick online ticket-sellers into selling huge numbers of tickets to scalpers, who then resell them at a higher price.
The Best Arenas and Stadiums in America
-Rolling Stone
For the last installment in a five-part series on great music venues, Rolling Stone polled 26 insiders and musicians – from top managers to Miranda Lambert – and came up with a list of the nation's coolest arenas and stadiums. Read on for our expert panel's picks, and visit our Venues that Rock page for an interactive map and much more.
Sorry, Valets: The Automated Parking Garage is Coming
-Popular Mechanics
Have separation anxiety when handing over your keys to that sketchy-looking attendant? Fear not: The parking garage of the future will be an automated, human-free experience—a vending machine for cars.
When you pull into one of the 12 brightly lit underground entry-and-exit rooms in the 697-car parking garage just beginning construction beneath Brooklyn's forthcoming Willoughby Square, you will not be greeted by a valet harboring Mario Andretti fantasies. And you won't have to navigate a labyrinthian maze of concrete. Instead, you'll confront nothing but a bumper-level fish-eye mirror and a large flat-screen TV.
A Hoss of a Video Board is Coming to Texas
-IAVM
Video boards might be growing faster than college tuition, and Texas will soon be home to three of the biggest. The Texas Motor Speedway announced plans for a new video board that will be waterproof, resist winds of 120mph, sit 125 feet above the track and span over 200 feet. The price tag is not known, but its electric bill is. $300, each hour.
See size comparisons and more details here.
Dodgers Fan Stabbed to Death After Game in San Francisco
–Southern California Public Radio
A man wearing a Los Angeles Dodgers hat was stabbed to death in San Francisco after a Giants-Dodgers game at the AT&T Park.
Details are scant. But police said a fight broke out  between a group of Dodgers and Giants fans a few blocks from the ballpark. The victim, 24-year-old Jonathan Denver, was stabbed at 11:30pm, about 90 minutes after the game ended.
Steve Adelman, an IAVM member and attorney specializing in sports venue liability and security, based in Arizona, is a guest speaker in the audio clip.
See also: Update: Dodgers-Giants Rivalry Led to Fan Stabbing in SF
7 lessons Undercover Boss Taught Me About Leadership and Northlands
-Richard Andersen, Northlands CEO
Several months ago, I was given the opportunity to see and experience my own organization from a perspective I rarely get as the CEO of Northlands.
My appearance on the show Undercover Boss Canada turned out to be a great learning experience and taught me a thing or two about our organization – both in terms of what we are doing well and how we can improve.
Analysis: Nairobi Attack May Trigger Tighter Security at Malls Worldwide
-Reuters
The deadly attack on a high-end Nairobi shopping mall on Saturday put the safety of malls around the world into the spotlight and could trigger moves to improve security and make it more visible.
"They're obviously going to ramp up security," said Malachy Kavanagh, a spokesman for the International Council of Shopping Centers, a U.S.-based trade group of mall and shopping center owners, adding that he expected the U.S. government's Department of Homeland Security to reach out to the heads of corporate security for all American malls following the events in Kenya.
See also: Nairobi Mall Attack Inspires New Apps to Aid in an Emergency
Sustainability Efforts by ASU, UA Athletic Departments Win National Recognition
–Cronkite News
At Arizona State University baseball games, workers urge fans to toss uneaten hot dogs in composting bins rather than trash cans.
Solar panels on the roof of Wells Fargo Arena, site of ASU basketball and volleyball games as well as other sporting events, help power the lights and scoreboard. University of Arizona football games are played on synthetic grass that's made from recycled materials and doesn't require watering.
A recent report by the Natural Resources Defense Council and the Green Sports Alliance highlighted sustainability efforts by the ASU and UA athletic departments among 10 universities nationwide. It noted that the visibility of college sports makes a "powerfully visible" commitment to sustainability.
Hockey Fans to Test Facial Recognition Technology
-IEEE Spectrum
On Saturday, hockey fans at the Tri-City Americans game in Kennewick, Wash., will have a chance to participate in a test of facial recognition technology. To opt out, they'll have to avoid the cameras by following designated routes.
Time Lapse: Busch Stadium Goes from Football to Baseball (Video)
-St. Louis Business Journal
It only took two days, but Busch Stadium is ready for baseball.
The stadium was transformed into a football field over the weekend to host a match-up between Southern Illinois University Carbondale and Southeast Missouri State University. But although the game was a treat for college fans, it was rough for the stadium grounds crew and the stadium's sod.
The Best Salesperson I Know … Winning Skills for Great Trade Show Success
-Trade Show News Network
Sales are the lifeblood of our industry.  Whether it's selling booths and sponsorships, or selling the value of the show to attendees, we are always selling or being sold to.  I started my career in sales, have hired and managed many salespeople and, always with deep regret, have had to let a few go on to other opportunities.    Today, I am still selling — and loving it.  Most of you are doing the same in some form or another.
Building a World Cup Stadium in the Amazon
-The New York Times
The most challenging aspect of building a World Cup soccer stadium in the middle of the Amazon is debatable. Some might say it is figuring out how to get oversize cranes and hundreds of tons of stainless steel and concrete into a city surrounded by a rain forest that stretches for about 2.1 million square miles. Others might mention the need to put most of those materials together before the rainy season floods the entire construction site. Then, of course, there are those who might point to the need to install the special chairs.