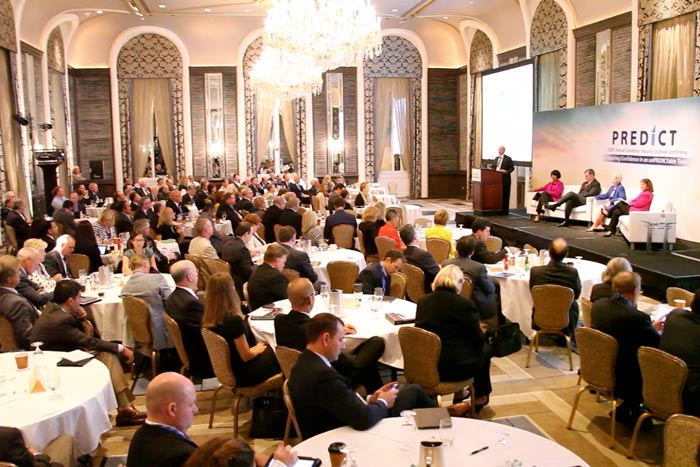 Why Big City Mayors See a "Buyer's Market" for Meetings and Conventions
– BizBash
With the number of events in North America holding steady while more meeting space is available, cities have to work harder than ever to attract conventions by renovating their venues, offering incentives, and building hotels—even at a time when other priorities are raiding their marketing budgets.
At CEIR Predict, an event hosted by the Center for Exhibition Industry Research at the Waldorf-Astoria in September that looked at the future of the exhibition industry, the mayors of four big convention destinations—Baltimore, Dallas, Houston, and Orange County, Florida—talked about the importance of meetings and conventions to their cities and how they are trying to win business in a competitive market. Dave Whitney, president of Destination Meetings Online and former president and C.E.O. of the Dallas Convention and Visitors Bureau, moderated the panel, and the mayors also answered questions at a press conference.
"It is a buyer's market now," Houston Mayor Annise Parker said. "We are all very competitive with each other." Sometimes that means offering incentives to lure big conventions, but she said not every event will merit concessions.
"No business can stay in business if you give away your product for free every time," Parker said. "For a convention or conference of such magnitude that it will significantly increase the revenues of the overall city, we of course will sweeten the pot. You have to do that with some of the major sporting events, and we coordinate with the state of Texas to decide whether it is of sufficient magnitude to do it."
Wichita State Gives Fans Look at Recent Improvements at Koch Arena
– The Wichita Eagle
The floor in Wichita State's renovated locker room is highlighted by the 2013 Final Four logo and a picture of the West Regional trophy in the center of the room.
It's important to know, David Munroe says, that it's not permanent. Munroe, who works for The Image Resources Group, designed the locker room and lockers. He is already dreaming about a new look for the carpeted floor.
"It's just taped in there," Munroe said. "When I've been down there working, I keep telling the players that we can peel that out and put a national championship one in real easy."
How Do you Keep Your (Young) Top Talent?
– Sodexo
A recent study published in The Harvard Business Review estimates that the average young, talented worker only stays at the same job for 28 months before moving on to another company. The same report stated that nearly three-quarters of a company's young high-achieving employees are actively looking for other opportunities outside of their company, and are interviewing with another company at least once a year. On top of this, 95% admitted to regularly looking for other potential employers and employment opportunities.
Why are so many high-quality young employees constantly looking for other opportunities? Why aren't they staying with companies longer? Why is future leadership leaving in droves?
Texas Law Trumps NFL Policy Prohibiting Armed Off Duty Officers In Stadiums
– CBS DFW
The National Football League has implemented a new stadium policy that would ban off-duty police officers from carrying guns into games…except in the state of Texas.
According to the NFL memo, "off-duty officers who attempt to bring firearms into an NFL facility will be denied entry."
But a Texas state law overrides the NFL policy. As long as officers attending the game check in at a specific gate and inform Security where they are sitting – they can have their gun.
Do You Have Enough Restrooms?
– IAVM
The Daily Fix recently asked college football fans what features stadiums should have as they're being rebuilt. The top two answers were comfortable seats and restrooms. Plenty of restrooms.
Help Come Up With the Best College Football Stadium Ever
– USA Today
USA TODAY Sports and USA TODAY Sports Weekly are teaming up with Populous, an architecture firm behind hundreds of professional and collegiate stadiums and arenas around the world, to attempt to come up with the best vision for a college football stadium … ever.
And we need your help to do it.
A Magical Question When I Don't Know
– Conferences That Work
One of the most common answers to a question is I don't know. (I'm not saying it's especially common, just more common than "cheddar", "42", and "in the second drawer on the left".) Generally, I don't know is a good answer because it's likely to be an honest one. After all, it's when someone confidently answers a question about which they really haven't a clue that all kinds of trouble can follow.
But occasionally someone—let's call him Paul—answers with I don't know after a pause, perhaps in a hesitant manner, that makes you wonder if perhaps he does have an interesting answer "at the back of his mind". Here's a magical follow-up question that often leads to a more specific, useful response.
(Image via BizBash and CNTV)