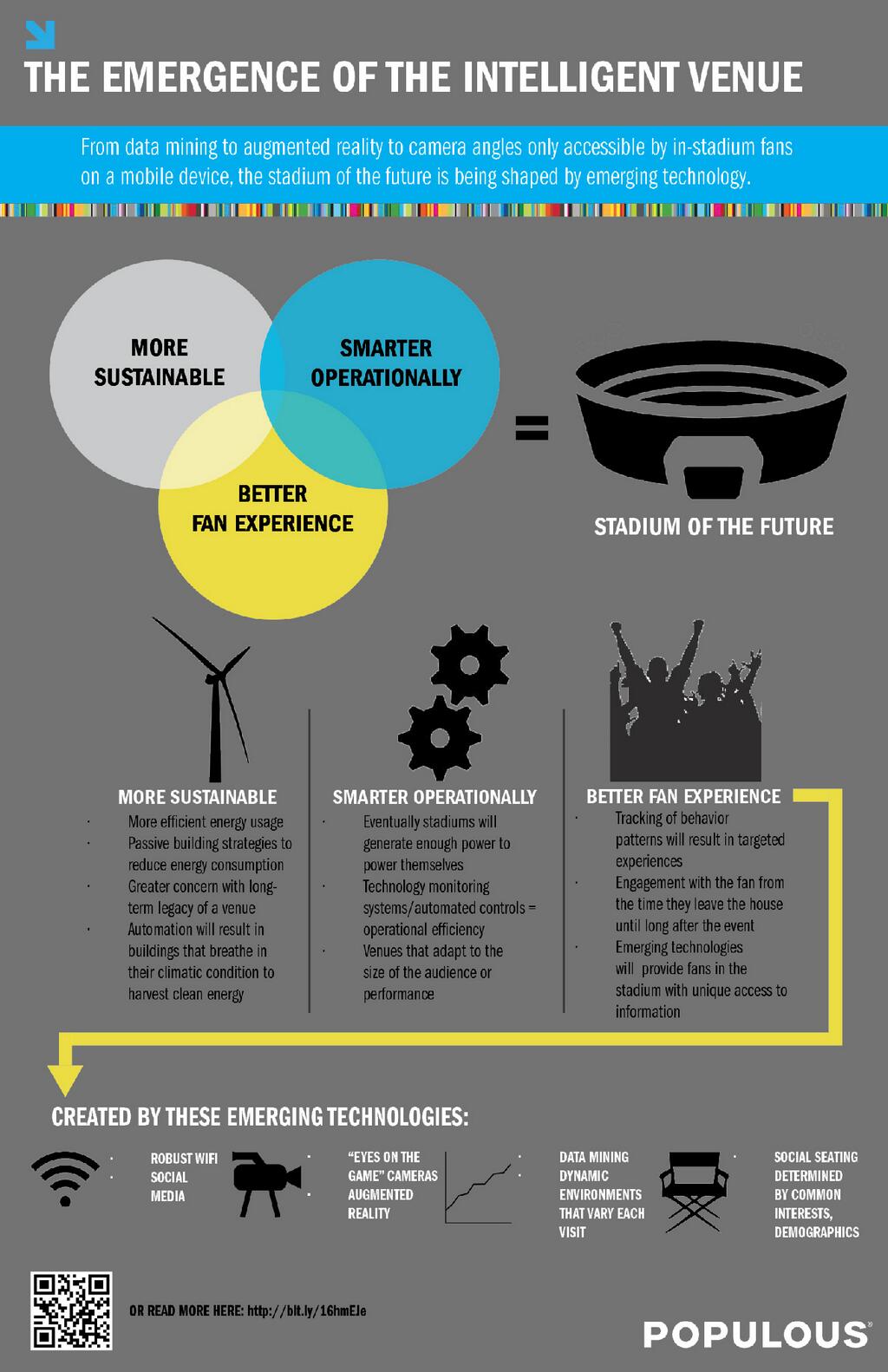 The Emergence of the Intelligent Venue
–Populous
Innovation in stadium design is driven in particular by the impact of technology affecting both the venue design itself and the fan experience. Emerging technology is having an all-encompassing impact on stadium design: venues are operationally smarter, they are more sustainable and they ultimately offer a far more engaging, social fan experience. Stadia have to continue to innovate to entice people to gather and share experiences in person at the venue, experiences that they cannot get in the living room at home or at the pub with friends.
The continuing competition with the in-home experience is the driving force behind the emergence of the intelligent venue. There is a critical balance between the in-game experience and the remote experience in order for both to coexist. Designers and venue owners are now looking to augment the in-stadium experience through cutting edge technology providing access to unique information and unique experiences. I believe there are three areas in which the stadium of the future can be smarter:
Robbers Target Bieber's S. Africa Concert, Steal $330,000
–Reuters
Robbers equipped with ropes, hammers and chisels broke into a strong-room at Johannesburg's Soccer City stadium after a Justin Bieber concert and made off with 3 million rand in cash, local media and police said on Monday.
An officer from the nearby Booysens police station in the sprawling Soweto township said officials at the stadium, which hosted the final of the 2010 soccer World Cup, only realised the cash was missing on Monday morning.
Planned Vikings Stadium Will Have World's Largest Transparent Roof
–Gizmag.com
The Minnesota Vikings American football team has announced the final design for a new stadium to built in the Minneapolis city center that will feature the world's largest transparent roof. This feat will be achieved using state-of-the-art polymer instead of glass to resist the extremes of Minnesota's climate, while providing views of the city skyline and a sense of openness for fans and players alike.
AudienceView Grabs Ticketing by the 'Long Tail'
–Venues Today
New MarketView product mixes white label technology with community driven ticketing
Canadian firm AudienceView is planning to roll out a new cloud-based GA ticketing application to compete with tech upstart EventBrite. Titled MarketView, the scalable ticketing system offers stripped down ticketing services for small events and local producers who want to work with a regional ticketing system but can't afford an expensive enterprise system.
Chicago's McCormick Place Will Use 100 Percent Wind Energy
–Trade Show News Network
With the WINDPOWER 2013 Conference and Exhibition at Chicago's McCormick Place this week, it was perfect timing to announce the venue has committed to obtaining 100 percent of its electricity from wind power.
"We are committed to having renewable energy as part of our comprehensive efforts to implement environmentally-friendly, sustainable practices," said David Causton, general manager of McCormick Place.
The Best Pace to Watch an NHL Game? Survey Says…
–SI.com
What's the best place to watch an NHL game?
According to Stadium Journey magazine, Minnesota's Xcel Energy Center was tops in 2013.
The magazine ranked the overall fan experience of attending a game in all of the league's 30 buildings. Factoring into its decisions were elements such as "food and beverage in the arena, overall atmosphere, the neighborhood, the fans, access (which includes parking, traffic, restrooms, and concourses), return on investment, and an extras category for any unique or bonus points."
The History of Baseball Stadium Nachos
–Smithsonian.com
The smell of freshly cut grass, the crack of the bat, the 30 minutes standing in line at the concession stand. Baseball season is up and running and the experience of going to a game wouldn't be the same without an expensive beer in one hand and a plastic receptacle of nachos covered in ooey-gooey cheese product in the other. But how did nachos become a stadium standard?
In September 1988, Adriana P. Orr, a researcher at the Oxford English Dictionary, was asked to trace the etymology of the word "nachos" and conducted an initial investigation of the nacho story.
Secondary Ticketing: Inflating Sport Prices or Useful Service?
–BBC
From the climax of the European football season and a summer of top-class cricket and tennis events to the Rolling Stones and Who concerts, there never seem to be enough tickets to go round for die-hard followers. At one time that might have meant hanging around outside a venue hoping to buy off a tout, or someone else with "a spare" to sell.
However, over the past decade a new phenomenon has arrived on the UK's shores – the "secondary ticketing" exchanges that allow individuals, sports clubs, and other organisations to legally sell spare tickets – often, but not necessarily, at more than face value.
SES 2013 TwitPic:
Thanks to the IAVM Foundation and our Global Partners, FREEMAN, Sodexo and Ungerboeck

Two Teams, Two Visions Presented for Miami Beach Convention Center Redevelopment
–The Miami Herald
In their first fully fleshed-out presentations on Tuesday, the developers competing to redevelop the Miami Beach Convention Center area described a vibrant new urban district of interconnected green spaces and cultural opportunities anchored by cutting-edge designs — even as they crossed swords over which plan would yield more benefits to the city at a better cost.