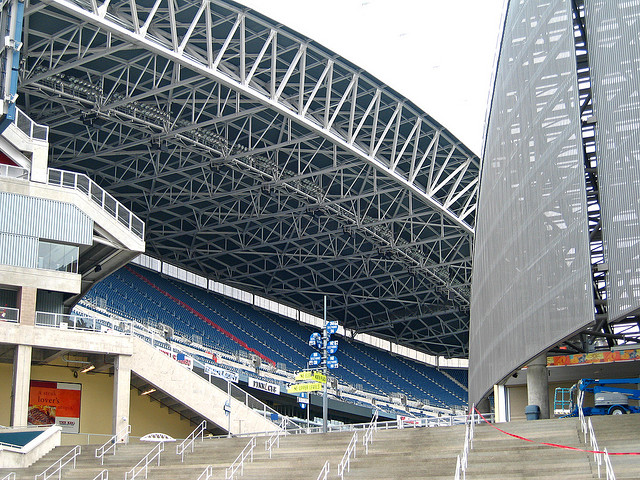 Stadium Innovations a Priority to NFL Owners
–USA Today
NFL owners will meet Tuesday to discuss issues involving the league, including player safety.
Stephen Jones, the executive vice president for the Dallas Cowboys says there will be another pressing issue on the agenda: the increasing problem of getting NFL fans off the couch, away from their high-definition TVs and back into stadium seats.
49ers New Stadium to Host Super Bowl 50 in 2016
–ABC Local
Cheers rang out all over the Bay Area Tuesday when it was announced that the San Francisco 49ers have been selected to host the 2016 Super Bowl at their new stadium in Santa Clara.
The decision was made public late Tuesday morning after a vote by 32 National Football League team owners at a meeting in Boston.
More ADA services at PA Convention Center
-Philadelphia Business Journal
The Pennsylvania Convention Center announced Monday a new scooter-rental service will be available to aid mobility at the Center.
An agreement with Scootaround Inc. will allow customers with disabilities to rent scooters for $65 a day. Wheelchairs will be $25 a day.
Virtual Trade Shows: Will They Replace Face-To-Face Shows?
–Trade Show News Network
When it comes to "virtual trade shows", I agree with Gertrude Stein's long-ago observation: There is no there, there.
A virtual event and an in-person event can each be described as a "trade show". True … and a TV turkey dinner and mom's Thanksgiving turkey dinner are both considered to be turkey dinners.
Barclays Center's 'Signature Scent' Tickles Noses, Curiosity
–DNAinfo New York
The air at the Barclays Center buzzed with anticipation recently as the Brooklyn Nets headed into a playoff game against the Chicago Bulls.
The pumped-up crowd hurried into the arena, pausing just long enough to get wanded by security guards before taking their seats. The announcer's voice boomed a welcome and the stands roared as fireworks marked the start of the 8 p.m. game.
But excitement over a potential championship wasn't the only sensation filling the air.
Dallas Council Gets Details on Plans to Transform Convention Center Area
–Dallas Morning News
The opening of the Omni Dallas Hotel has changed its corner of downtown and boosted the number of conventions coming to the city.
But the city's effort to transform the area around the Kay Bailey Hutchison Convention Center hasn't stopped with the hotel.
Manchester City Form MLS Franchise with New York Yankees
–BBC Sport
New York City Football Club will enter the MLS in 2015 after a deal was struck thought to be worth $100m (£66m).
The new club will play in a temporary home until a new stadium is built.
"We are thrilled to contribute to the energy and growth of New York City soccer," said Manchester City chief executive Ferran Soriano.
Massive New Convention Center and Hotel in the Works for Downtown Miami
–Miami Harold
A big player in downtown Miami development has solidified plans to build a major, privately financed convention center topped by a massive, 1,800-room hotel — the largest in South Florida — on the site of the demolished Miami Arena.
–International Meetings Review
With so many conferences now being held on the topic of going green, it's incumbent on the venues hosting these events to have green credentials of their own.
You can't stage an eco-friendly congress in a centre that's a notorious blight on the environment, so in their efforts to attract such business, conference centres themselves are becoming world leaders in environmentally friendly functionality.