Petitions Could Throw Wrench in Miami Beach Convention Center Redevelopment
–Miami Herald

Seven thousand signatures could stand in the way of a billion-dollar plan to overhaul the Miami Beach Convention Center District.
The signatures were collected in a petition drive that takes aim at one of the most ambitious urban development projects going on in the country: Miami Beach's plan to lease public land in the heart of South Beach to pay for renovations to the city's inadequate convention center.
A Short History of the World's First Retractable Stadium Roof
–The Atlantic Cities
In June 1989, Toronto unveiled the SkyDome to much pomp and circumstance. It was the first stadium with a fully retractable roof, creating the best of both weather worlds for the CFL's Argonauts and MLB's Blue Jays.
The idea of building a domed stadium in Toronto was conceived after a notoriously wet 1982 Grey Cup (dubbed the "Rain Bowl") at Toronto's Exhibition Stadium. Bleak weather conditions forced thousands to watch from concession areas while bathrooms overflowed. It helped push local politicians to finally build a dome, one that would also make baseball games in the Toronto spring more tolerable.
Pricey Tickets for Rolling Stones Tour Test Limits of Live-concert Market
–The Christian Science Monitor
At as much as $600 a pop, tickets to the Rolling Stones 50th-anniversary tour point to an industry catering more and more to a rarified tier of concert-going consumers.
Univ. Of Oregon Sets $500,000 Annual Minimum For Future Licensees
–Sports Business Daily
New Univ. of Oregon licensees starting next summer "must guarantee the university at least $500,000 a year in royalties, which would mean a minimum" of $5M in wholesale sales to retailers, according to Allan Brettman of the Portland OREGONIAN.
Convention Data Services' Onsite Wireless Will Call Tool Streamlines Reg Process
–Trade Show News Network
Getting buyers onto the showfloor is without a doubt one of the more important elements of a trade show or expo, but getting them through the on-site registration and badging process quickly and smoothly can sometimes be an issue.
Convention Data Services' Onsite Wireless Will Call tool may be able to loosen up that logjam by reducing attendee wait time in registration lines.
The World's Highest-Paid Athletes
-ESPN
Issues over Museum Parking Delay Coliseum Deal
–Venues Today
A museum located near the L.A. Sports Memorial Coliseum has delayed a planned stadium handover to the University of Southern California over parking concerns.
This morning, the board of the California Science Center delayed a key vote to turn over parking to the university for games and concerts. The university and the commission have been in talks to finalize a new lease agreement for USC that would give the school more control of daily operations at the stadium.
Convention Center Hires SMG to Privatize Management
–The Inquirer
In a move to reposition the Convention Center amid fierce competition, the board of the troubled facility voted overwhelmingly Wednesday to privatize a range of management functions and hire an outside firm to lead it.
The board also voted, 13-2, to hire SMG, a West Conshohocken-based management group that runs arenas and other large facilities in the United States and overseas. The board selected SMG over Global Spectrum, a unit of Comcast-Spectacor.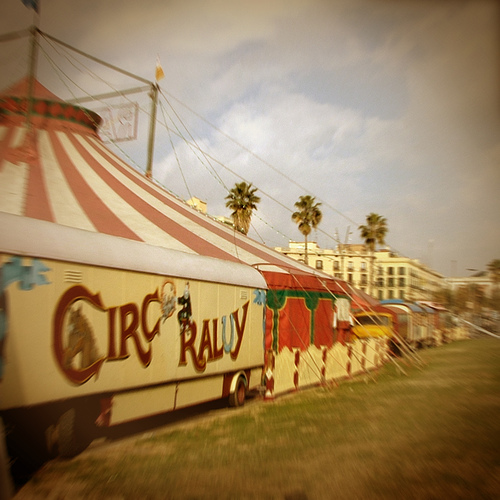 For Love Not Money: What Keeps Circuses On the Road?
–Science Daily
Year-in, year-out the circus comes to town. But in 2013 circuses are in trouble. Seen by many as entertainment from a bygone age and facing Government action to ban circuses with wild animals, what is it that keeps circuses on the road? Why do they carry on going?
The surprising answer has been found by Northumbria University academic, Professor Ron Beadle, who has published the first major study of the motivations of circus-owner directors in the UK and Ireland.
Bolton Abandon QuickQuid Sponsorship Deal After Outcry From Fans
–The Guardian UK
Bolton have reversed their decision to enter into a sponsorship deal with QuickQuid. The Championship club last week announced the pay-day loan company would have its logo on their match-day and training kit.
However, it was met with opposition from fans and a statement on the club's official website on Wednesday confirmed the agreement was no longer, with the chairman, Phil Gartside, saying: "We don't want our commercial relationships to come between us and our community."
Brokedown Palace: RFK Stadium Is a National Treasure, Cracks and All
–Washington City Desk
When you view Robert F. Kennedy Memorial Stadium from one of its lagoon-like parking lots, it looks like a mod flying saucer parked on the home of the Jetsons. Its curved roof harkens to space-age architecture from the 1960s that would be more at home in Seattle than next to the Anacostia River. As you move closer, you notice that its bright white façade has faded and is actually, in many places, flaking away.
2013 NBA Finals: Spurs & Heat Match-up Infographic
–GMA News
Sean Parker agrees to $2.5M settlement over wedding venue
–CBS News
It appears that former Facebook president Sean Parker has inadvertently become an environmentalist to save his wedding. He has agreed to dole out $2.5 million in a settlement with the California Coastal Commission over the construction of an immense wedding venue in an ecologically sensitive area of state.
In a little nook of the redwood forest in Big Sur, Calif., Parker commissioned the custom-made construction of what seems like a small village for his wedding day. In addition to a gated cottage, fake ruins, bridges, and ponds, a specially constructed dance floor decorated with imported plants is being erected, according to the Atlantic.
Photo 1 courtesy of kevin dooley via photopin cc