Eric Granger, an industry veteran with more than 20 years in the live entertainment, sports and facilities management industries, has been named General Manager of KFC Yum! Center in Louisville, Kentucky. The announcement was made by Bob Newman, President of AEG Facilities, operators of the arena.
"We are thrilled to have Eric join the AEG Facilities and KFC Yum! Center team in Louisville," said Newman. "Eric brings a great depth of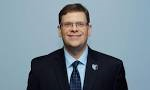 knowledge and industry experience and will play a key role in the continued success and stellar reputation of one of the region's premier and busiest destinations for sports and entertainment."
"KFC Yum! Center is pleased to welcome Eric Granger and his family to Kentucky. Eric's experience and talent will help maintain the arena's reputation as one of the finest venues in the world," added Scott C. Cox, Chairman, Louisville Arena Authority.
As General Manager, KFC Yum! Center, Granger will be responsible for the management of all of the arena's business operations, the creation of new events and the development of new revenue opportunities for the seven-year old, 22,000-seat sports and entertainment arena which serves as the home of the University of Louisville men's and women's basketball programs. Granger will also oversee numerous proprietary initiatives of AEG Facilities including AEG S.A.F.E., AEG 1Source, AEG 1EARTH, AEG 1Force, AEG Encore and AEG Energy Services, in addition to working closely with AEG Global Partnerships and other divisions of the company.
Granger will assume the role of General Manager last held by Dennis Petrullo who resigned earlier in the month.
Prior to joining AEG Facilities and KFC Yum! Center, Granger spent seven years serving as the Vice President and General Manager for Memphis, Tennessee's 18,119-seat FedEx Forum, home to NBA's Memphis Grizzlies and University of Memphis Tigers in addition to serving as General Manager of the Nationwide Arena in Columbus, Ohio, home of the NHL Blue Jackets.
"I am looking forward to working with the great group of professionals in Louisville with AEG Facilities and the Louisville Arena Authority," said Granger. "KFC Yum! Center is an incredible facility."
A graduate of University of South Alabama, Granger assumed his new role on January 1, 2018.