Respected and accomplished industry veteran Kevin Twohig, CFE, chief executive officer of the Spokane Public Facilities District, announced his impending retirement.
Twohig said that at this point there is not a definitive timeline and "I am in no rush to get out the door." Twohig will be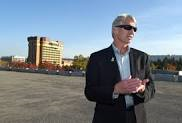 assisting the Board with identifying the next CEO and will be available to advise the new CEO. There are also a couple of facility projects that he is engaged with and expects to complete before his retirement.
Twohig will attend the Venue Management School at Oglebay and looks forward to seeing his many friends in the industry. IAVM wishes one of the profession's true good guys all the best in the future!