Las Vegas Events announced on Aug. 17 its long-tenured president, Pat Christenson, will retire on Dec. 31, 2023. Christenson will continue to work with the new president once the position has been filled, prior to the start of the Wrangler National Finals Rodeo this December.
A graduate of the University of Wisconsin in Madison where he won an NCAA wrestling national championship at 167 pounds as a senior in 1976, Christenson has carved out an impressive career in Las Vegas in venue development, event programming and development and sponsorship.
Christenson moved to Las Vegas in 1980 to be an assistant wrestling coach and event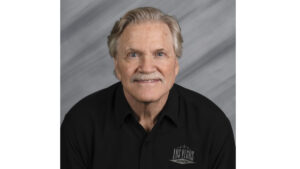 coordinator. In 1983, he was promoted to assistant director of the newly built 18,500-seat Thomas & Mack Center which was unfinished and projected to be a cash drain on UNLV. At the same time, UNLV took over management of the 30,000-seat Las Vegas Silver Bowl (now Sam Boyd Stadium).
Christenson was charged with developing programming and developing an operation for both venues. From 1983-1992, the Thomas & Mack Center and the Las Vegas Silver Bowl were arguably the two most successful collegiate venues in the country. Christenson booked every event that toured the country, averaging 175 events per year in both venues. By 1990, both venues were solvent, had completed $15 million worth of improvements and amassed a sizeable reserve.
In 1991, Christenson was promoted to director of both venues where he lobbied for and managed a $40 million renovation of both venues. From 1991-1995, they sold out every show averaging more than 135,000 tickets per year. The Eagles, Metallica, Dave Mathews Band, N'Sync, Lollapalooza, George Strait, and three U2 tours followed. He also lured the Grateful Dead to the Silver Bowl.
Christenson worked with Cox Communications to provide half the funding and then designed and opened a much-needed Olympic sports venue for UNLV and the Cox Pavilion.
In 2001, Christenson accepted a position as president of Las Vegas Events. In this capacity, he has been responsible for securing "Signature Events" and then ensuring their growth and success.
During his tenure, Las Vegas Events has increased the number of events it has supported from 21 in 2001 to an average of 41 over the past five years prior to the start of the pandemic. Most notably, the list includes two events Las Vegas Events produced – the Wrangler National Finals Rodeo® and the FEI World Cup Jumping and Dressage Finals.
In addition, LVE secured and supported four conference basketball tournaments, Electric Daisy Carnival, Rock in Rio, Life Is Beautiful, USA Sevens, NBA Summer League, and numerous USBC Open Championships. The non-gaming economic impact of these events has increased from $108.9 million in 2001 to an average of more than $535.8 million for the period of 2015-2019.
As both the director of the Thomas & Mack Center and president of Las Vegas Events, Christenson has played a prominent role in the growth of the NFR since it first arrived in 1985.
Known as the richest and most prestigious rodeo in the world, the NFR attracts the top 15 contestants in bareback riding, steer wrestling, team roping, saddle bronc riding, tie-down roping, barrel racing, and bull riding to compete for a share of the increased purse and the coveted PRCA gold buckle.
In 2001, the NFR drew visitors for only tickets sold in the Thomas & Mack Center. Christenson created the "NFR Experience" with a goal of dramatically increasing visitation by developing and promoting events outside the Thomas & Mack Center. Today, it is estimated that the NFR Experience draws more than 400,000 visitors annually, participating in 200-plus events made up of 25 NFR viewing parties, 70 concerts, The Cowboy Channel Cowboy Christmas, World Series of Team Roping, and more.
Christenson is a member of the Southern Nevada Sports Hall of Fame (Class of 2013), the University of Wisconsin Athletic Hall of Fame (Class of 2019) and the Wisconsin Wrestling Hall of Fame and has been a member of the Board of Governors for the National Wrestling Hall of Fame. During his career, he has served on the Boards of MDA, Nevada Childhood Cancer Foundation, Opportunity Village and Grant a Gift Autism Foundation. In 2007, he was named Las Vegas' "Most Influential Sports Figure" by the Las Vegas Sun.