By Tom Cornwall, CVE
For me, Bubble life started on July 12 and completed 79 days later on September 29, one day after Game 81 in the bubble saw the Tampa Bay Lightning beat the Dallas Stars in Game 6 to claim the Stanley Cup in Edmonton. Some say the Stanley Cup is the hardest trophy to win in professional sports. Many insiders are saying that this year's "COVID Cup" was the hardest Stanley Cup to win.
The two hub cities of Edmonton and Toronto consisted of 24 teams and a few hundred NHL staff and contractors all working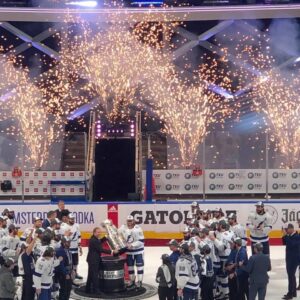 together to keep the bubble's safe, both from a security and hygiene standpoint. Most of us lived inside the two bubbles and had very little to no contact with the outside world.
It took a village, or in this case, two villages, to pull off this tournament and keep it COVID-free over five playoff rounds consisting of 81 games. According to the NHL, there were almost 34,500 COVID-19 tests conducted with zero positive tests. Needless to say we got very used to our daily throat or nasal swabs!
The opportunity to participate in this historic event will forever rank near the top of my career highlights, especially since this one came in my "retirement" years! The COVID crisis put an end to any hopes of retirement travel adventures so I was very grateful to Oak View Group/Prevent Advisors when they tapped me to join their Edmonton Compliance Team for this project.
The memories are many and the opportunity to meet new colleagues who have become new friends is priceless. On July 12 when I started this project and began planning the fence perimeters that would quickly create our bubble, I wasn't super optimistic that we could pull this off. Now, 79 days later, it was almost surreal reflecting back on what was accomplished between Toronto and Edmonton bubble dwellers.
The Tampa Bay Lightning fought hard for the right to drink from THE CUP. The dedicated bubble support staff fought tirelessly as a village to help the NHL put the 2019-20 season/Stanley Cup final in the history books. On July 12, I set my project goal to successfully and safely complete this event, pop the bubble, and return to retirement life with Betsy. I am happy to say I have achieved that goal and am once again enjoying home-cooked meals and looking forward to my grandchildren visiting tomorrow!
Tom Cornwall, CVE, is NHL Hub City Compliance Officer, retired.