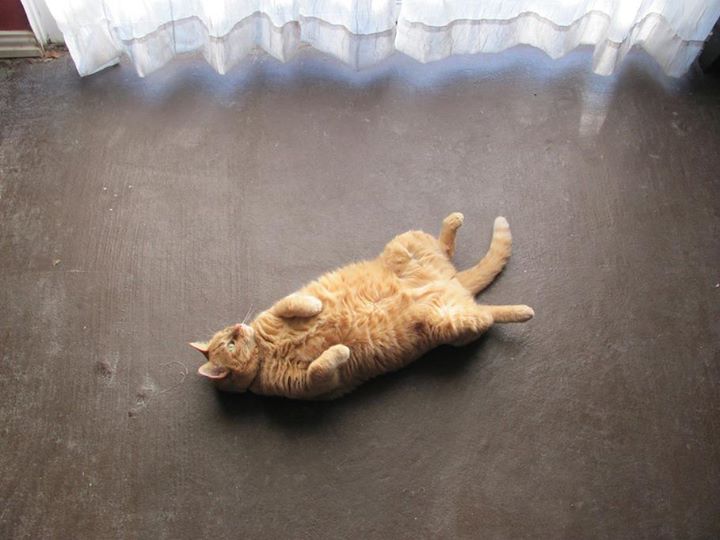 Let's talk about cats on the Internet. It's a day that ends in "y" so why not.
In 2012, the world's first Internet Cat Video Festival was held at the Walker Art Center in Minneapolis, Minn. More than 10,000 people gathered to watch videos that are easily found for free online.
"In fact, it was this desire for community engagement that led to the event's inception as part of a program at the Walker Art Center called Open Field," Anna Weltner wrote in New Times. "Curated by [Scott] Stulen, the program turns the Walker's lawn into a community gathering space over the summer, with opportunities to share skills, enjoy music and poetry, participate in activities hosted by artists in residence, and simply hang out. One of the activities Stulen and one of his interns thought of was a crowd-sourced festival of cat videos. An announcement for the event, Stulen said, went viral in two hours. He was shocked when, instead of the predicted 100-or-so viewers, thousands of cat video enthusiasts turned up on the Walker's lawn."
Perhaps you already knew about this festival; however, I'm just now hearing about it and I'm interested. The first event was so successful that it now goes on tour, visiting venues in several U.S. cities.
"The current Internet Cat Video Festival tour includes 20 cities, and Stulen has done his best to tailor each event to the city it's in," Weltner wrote. "This often includes work with local animal nonprofits, and invitations to local artists to discuss related projects. Ironic as it sounds, the goal of the Internet Cat Video Festival is to foster community.
"'I think there's really something different about content we experience online when you take it into a social setting,'" Weltner continues, quoting Stulen. "'There's something that people really respond to about watching this stuff together.'"
This a great example of why live experiences will never die. Sure, there's the fear that people would rather stay at home than attend a live event, and  yes, you're going to have homebodies that want that. But for the most part, people want to be around other people, whether to laugh or cry or cheer, because we're social creatures. By attending a live event, we meet others that are similar to ourselves, liking the same things we like. By attending a live event, we reassure ourselves that we're not alone.
The Internet Cat Video Festival stops in Austin, Minneapolis, Oakland, and Portland (home to this year's VenueConnect) in 2014. Go for the cats. Stay for the people.
(If you're curious, that is one of my cats, Sailor, in the photo, taken by T. Cole Rachel.)