By Tatiana Favela
To mark her lasting impact and legacy, New Mexico State University is honoring Barbara "Mother" Hubbard for her commitment to NMSU and the Las Cruces community by naming an access road north of the Pan American Center, where she spent most of her career, Barbara Hubbard Way in honor of her 95th birthday.
Hubbard received the news as a surprise from Chancellor Dan Arvizu with support from the NMSU Board of Regents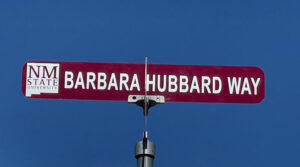 during her tribute dinner on Wednesday, Oct. 19, while celebrating her many accomplishments and the impact she's had on NMSU students, the local community, and the entertainment industry for decades.
From raising scholarship funds for hundreds of students through her American Collegiate Talent Showcase Scholarship program to mentoring students and teaching a class in venue management at age 95, Hubbard is still going strong when it comes to expressing her deep passion for NMSU.
The entertainment industry icon has also created opportunities for women in the workplace, while always being open to helping others create a pathway to success.
The dinner raised approximately $100,000 for ACTS scholarships.
NMSU leadership requested the naming of the access road to Barbara Hubbard Way, which was approved by the NMSU Naming Committee and the Board of Regents. The access road is located west of Arrowhead Drive, south of Lot 29, extending to the entrance to Lot 27, north of the Pan American Center and the ticket office.
To read a wonderful tribute story celebrating Mother Hubbard's 95th birthday celebration, click here.
Tatiana Favela is a Communications Specialist with New Mexico State University Marketing and Communications.