SMG announced that its managed facilities in New Orleans have achieved a record-setting concert year. The Mercedes-Benz Superdome, the Smoothie King Center and Champions Square collectively sold over $40 million in concert tickets during the 12 months ending June 30, 2017.
Among the many highlights were performances by Beyoncé and Guns N' Roses at the Mercedes-Benz Superdome. The Smoothie King Center hosted a record number of concerts (25) including sold-out shows by Drake, Maroon 5, Dixie Chicks, Red Hot Chili Peppers, Billy Joel, Radiohead, Charlie Wilson, Tim McGraw & Faith Hill, the Weeknd, and Journey.
This year also included the first ever Bayou Country Superfest at the Superdome as well as the annual Essence Festival.
"This past year is further validation of how far New Orleans has come back from the devastation of Hurricane Katrina, and the vitality of our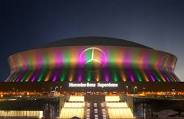 market," said General Manager Alan Freeman. "Our show numbers and grosses have shown sustained growth for several years. I want to thank all our promoters, with special thanks to Live Nation, Beaver Productions, and AEG."
"Alan and our corporate staff in the SMG Live Entertainment Division did a fantastic job last year directing touring business to New Orleans," said SMG Executive Vice President Doug Thornton while noting that the New Orleans facilities art part of a larger company network that includes five other SMG-operated NFL stadiums and 68 domestic arenas. "The unprecedented results represent yet another milestone for these three great facilities and we are pleased that our corporate resources were able to help deliver significant results."
The Mercedes-Benz Superdome, Smoothie King Center, and Champions Square are the home venues for the New Orleans Saints and the New Orleans Pelicans, in addition to such annual attractions as the Allstate Sugar Bowl, the Bayou Classic, the R&L Carriers New Orleans Bowl, and the LHSAA High School Football Championships. This past February all three venues were utilized during the very successful 2017 NBA All-Star Weekend, marking the third time hosting in the past 10 years.