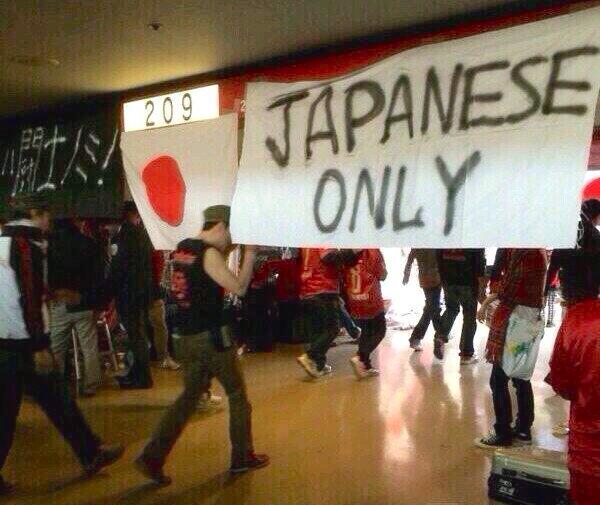 Fans of the Urawa Reds hung a "Japanese Only" banner in Saitama Stadium during a March 8 match, and it stayed up until the game was over. Because of this, the football (soccer) team was forced by the Japanese Professional Football League to host a game in an empty stadium on Sunday, March 23. The league's chairman, Mitsuru Murai, said that Urawa's failure to take down the banner made the club just as guilty as the fans who put it up.
"At first we only thought that the banner 'could be construed as a discriminatory message' but we were too lenient," a Reds team official told the Japan Daily Press. "We now consider it as definitely 'a discriminatory message.'''
The 63,700-seat stadium, which is one of the planned football venues for the 2020 Summer Olympic Games, had advertisements taken out of the stadium on game day and replaced with signs promoting the United Nation's Sports for Peace program.  And even though they played to empty seats, the athletes supported the league's punishment.
"One thing I can say is that sport is not something to bring discrimination into," Reds player Tadanari Lee told the Japan Times. "I'm a football player and all I want to do is play football. I'd really like this kind of thing to stop. Through the media, a lot of people know what this game was all about and why it happened. We wore the Sports for Peace T-shirts and we were happy to play our part. Hopefully we can keep doing so."
How do you think people would react to punishment like this in a U.S. venue?
(Image: Japan Daily Press)