By R.V. Baugus
Jim Mercurio knows a thing or two about Forward Thinking Leadership, a topic he will cover in a presentation on October 5 at IAVM's ENCORE virtual conference.
As Executive Vice President and General Manager of Levi's Stadium, home to the NFL San Francisco 49er's,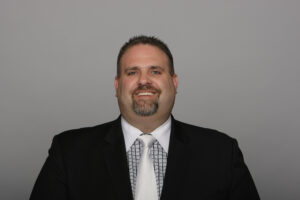 Mercurio is in his 30th year with the team and his fifth in his current position. Previously, he served six years as vice president, stadium operations & general manager. In his current role, Mercurio oversees all aspects of stadium & event operations including executive oversight of the food and beverage operations, engineering, grounds, guest services, janitorial services, operations & logistics, parking and transportation. He additionally manages all police, safety & security services, including 24/7 stadium security operations, and game and event day medical services at Levi's Stadium.
At IAVM ENCORE, Mercurio will share answers to questions offered by Russ Simons, Chief Listening Officer and General Manager at Venue Solutions Group and himself someone who knows a lot when it comes to leaders and leadership.
You will not want to miss this special session from two of the very sharpest minds in the public assembly venue world when they have more a conversation than presentation at ENCORE. We will not give away the full conversation but want to share in advance a snippet of the conversation between the two icons.
RUSS: Leadership is what we all pay attention to and leaders to consider themselves learners. That said, how did you get to where you are today?
JIM: It started well before entering into pro sports and venue management. It started at home with mom and dad. Then from playing sports and sports in general. How to handle defeat, how to compete, how to be a team player, how to coach, how to teach, how to be taught, all things I think in my day I valued growing up and certainly to this day.
When we look at everything that sport teaches us, it should be applicable to everyday life and certainly in my case if you are a boss all of those things you learn specifically how to form a team, how to play on a team, how to be an honest, hard-working individual and a productive member of society, all of that stuff started for me at home.
I played baseball as a kid and basketball player but not very good. I got a baseball scholarship to University of Pacific in Stockton, CA. I made the jump from playing sports to being a part of sports, entertainment, and service.
RUSS: When I interview people today I don't ask about their skill set in their job, I ask about their career and the items that create the foundation of their character. What was the first job you had on our side of the industry?
JIM: I like to say I picked up jocks and socks. That's really what I did. I was on the sidelines at Candlestick Park picking up jocks and socks in the locker room first, getting Gatorade and water to the team, and when the game started I actually pulled up the nets in the end zone. That and as a security guard back in the day with Contemporary Services.
Mercurio is just getting warmed up to the topic of Forward Thinking Leadership. You are invited to be at the session to hear the full interview and gain insights into making yourself a better leader and one respected by your "team" in your own "locker room."