By Anna Wong
After over 40 years working in the facility management industry, Senior Associate Athletics Director of the Frank Erwin Center, Jimmy Earl, CVE, announced that he will retire at the end of September. Earl is only the third director of the Erwin Center since the building's opening in 1977.
Earl was the first Events Manager of the Erwin Center and has also had experience in large convention complexes,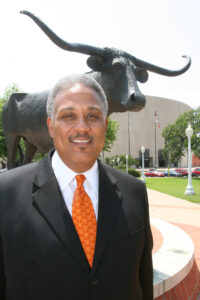 such as the Fort Worth/Tarrant County Convention Center where he was the Manager from 1987 to 1990. Earl completed the Leadership Austin program in 1994, has served with the Austin Arts Commission, the UT Mentor program, Pflugerville Education Foundation (President), Steward Board Metropolitan AME Church, Travis County Amateur Radio Emergency Service (Public Information Officer), Amateur Radio Operator, Extra Class WB5MET, and various other boards in Austin.
Earl is a member of Omega Psi Phi Fraternity, Inc., a 1993 graduate of the Public Assembly Facility Management School at Oglebay and attended the Senior Executive Symposium at Cornell in 1997. He has also been an active member of the International Association of Venue Managers (IAVM), the acknowledged leader in public assembly facility management, since 1987.
He has served on several IAVM committees including Convention Centers/Exhibit Halls, Professional Development, Diversity, Arenas, Universities and Publications. Additionally, Earl has served on the IAVM Board as Director-at-Large Universities, Board of Governors Senior Executive Symposium, and the IAVM Foundation as a trustee. In 1995, he attained the Certified Facilities Executive (CFE) designation. He is also a past president of IAVM and in 2016, he was awarded IAVM's Charles M. McElravy Award, which is given to a Professional, Honorary or Retired member of IAVM, who in the opinion of the Board of Directors has made extraordinary contributions to the Association or the profession of public assembly facility management.
Earl's colleagues shared the following memories and praise upon hearing about his retirement.
"How could I not love the man who named me the 'Moses of Rock 'N' Roll'? Jimmy is like that Sade song 'Smooth Operator,' no matter what the problem, he always made it go away. He is not only a great building guy, but he's my friend – I love you Jimmy 'Duke Of Earl' – best of luck my friend!" – Louis Messina, CEO, Messina Touring Group, LLC
"The Frank Erwin Center brings special memories to mind, not only because of the wonderful basketball team performances and fan support, but because of the people. The people who supported athletics, entertainment, music and cultural events, that put Austin on the map. Over the decades, I have considered Jimmy Earl a friend and true teammate. He and I shared a passion about increasing diversity on our campus. He spent nearly his entire arena management career at the Erwin Center, rising to the very top level of respect in his profession while the venue emerged as the world's most productive campus-based multipurpose arena. Jimmy cared about the success of our program no less than that of the biggest rock and roll show staged there. He listened to what mattered to us, and he and his staff worked tirelessly to deliver events in a first-class manner. I will miss our entertaining discussions and banter, from which we always emerged somewhat weary but ready to take on the next exhilarating opportunity to join hands and make our great University a more accessible and embracing place. For that, I'm ever thankful for Jimmy's service and friendship." – Jody Conradt, Former UT Women's Basketball Head Coach (1976-2007), Texas Athletics
"Jimmy Earl has done an outstanding job for The University of Texas for many years. As Senior Associate Athletic Director, he has managed the Erwin Center, which is one of the most complex institutions within The University, with professional style and grace. The University owes Jimmy a great deal of thanks for the support that he has given our scholarship athletes, as well as the many people who have enjoyed a wide variety of events at the Erwin Center." – Dr. William Cunningham, Former Chancellor (1992-2000), The University of Texas System
Anna Wong is Assistant Director, Marketing and Sales at Frank Erwin Center.