By R.V. Baugus
I first met Jimmy Earl, CVE, in the early 2000s when he was going through the chair rotation on the way to becoming the Association's President (now Chair) in 2004-05. Jimmy was someone I was eager to meet, and in all honesty it was to be able to make the acquaintance of someone who worked at the University of Texas, where I spent one glorious year of my college undergraduate days in 1976-77 when legendary Darrell Royal was coaching in his last season and legendary football icon Earl Campbell was running roughshod his junior year on campus.
I couldn't wait to talk to Jimmy about all things UT (yeah, yeah, I know, those from Tennessee see this as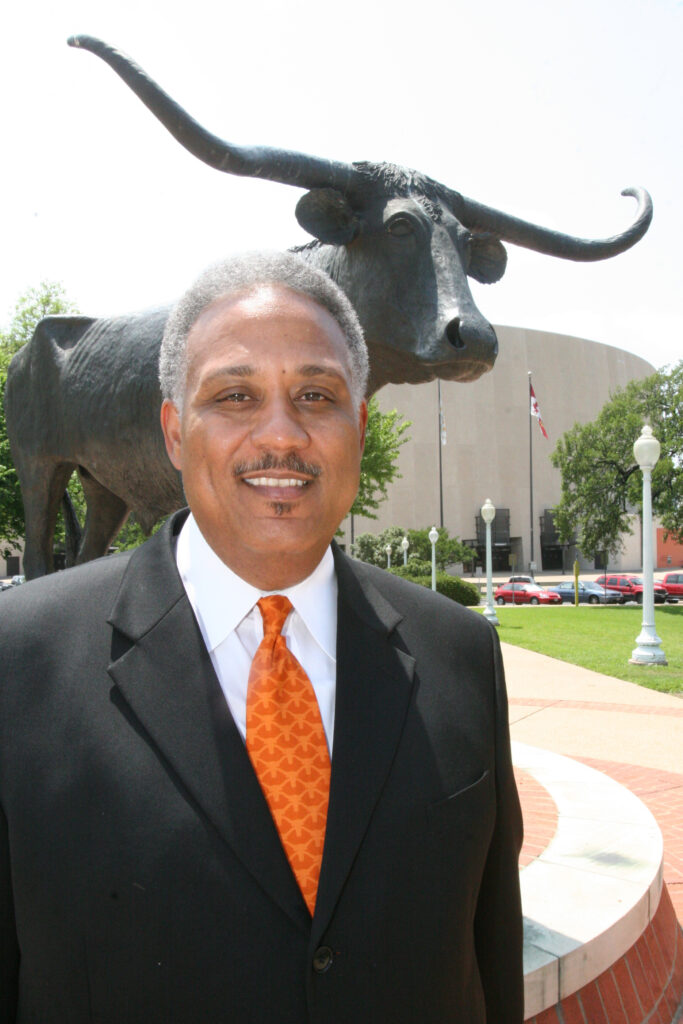 blasphemy when it comes to deciding the real UT. Let's just all get along and say we are both the real UT.). I seem to recall that I might have been more impressed with Jimmy and his oversight at the University's Frank Erwin Center than he was with me. Or maybe he actually was impressed with this me and I just didn't know it because of Jimmy's easy-going, cool, calm, and collected manner. Jimmy always seemed to be the very definition of unruffled when most of the rest of us are running around like our fannies are on fire. Not Jimmy.
Part of me thought that once the discussions about all things UT were over that we would remain professional friends but that in his busy world I was not going to be of much significance to him in later years. Boy, was I wrong.
Today, as news came that after 40 years working tirelessly in this great industry, Senior Associate Athletics Director of the Frank Erwin Center, Jimmy Earl, was unhooking his career and heading into retirement. The news, naturally, gave me great pause to reflect on a working relationship that became a genuine friendship to this very day.
I will always remember sitting with fellow IAVM staff members in 2004 when Jimmy accepted the gavel to lead the association during the annual conference in Washington, D.C. As Jimmy strode onto the stage to the tune of "Duke of Earl," he accepted the gavel from Mike Kelly, CVE. If I recall, it was before Jimmy made his acceptance remarks that he startled me from the stage by saying, "I've got something for R.V. Baugus." The next thing I know, the University of Texas school song is playing and my fingers instinctively went up in the Hook 'Em Horns sign.
I will never forget Jimmy for doing that. In one of the biggest moments of his professional career, Jimmy was thinking of me and wanted to do this kind gesture. No, you don't forget things like that.
It did not take long for me to realize that a friendship was being forged that would go beyond Jimmy being employed at a school I attended.
Interviewing Jimmy in 2004 for his cover story as the incoming president was very memorable. My wife, Tanya, accompanied me on a drive to Austin to visit Jimmy and do the interview. Tanya was multi-talented and handled photography at the interview, including the picture of Jimmy next to the mascot Bevo statue outside the Erwin Center that he liked to use from that day forward and that you see with this article.
Jimmy immediately took to Tanya, and she to him. This would be significant a few years later when Tanya passed away during day surgery at the young age of 48. One of the people I remember talking to the most during my earliest, darkest days was Jimmy, always willing to just listen and be a friend and express his love and support for me. No, you don't forget things like that.
Tanya and I usually made one trip a year during basketball season to watch the Longhorns play. I always let Jimmy know in advance that we were coming down, and even in the controlled chaos of game day, Jimmy came to our seats before the game with a hug for both of us and to visit before he resumed his work duties. No, you don't forget things like that.
I remarried a couple of years ago to Charlotte, a blessing from God whom I met in a Grief Share class and whose husband had died two months before my beloved Tanya. It was then Charlotte's turn to go to games with me, and Jimmy showed Charlotte the same welcoming friendship and attention he always gave Tanya.
Jimmy was very involved most recently in diversity and inclusive initiatives within the association. He was always looking for solutions and not problems, and wanted to make a difference in his beloved IAVM and industry to see these very important initiatives through for the next generations to follow. I never had a deep talk with Jimmy about these issues outside of our Diversity & Inclusive Leadership Committee monthly calls (of which I am the staff liaison), but would love to make another drive to Austin to just hang out and talk about real life and hear it from Jimmy and to try and do my very best to understand it and do what I can to make this a more equitable world to live in.
I would probably also suggest to Jimmy that we head over to Trudy's in Austin for some Mexican food, just to get a rise out of him telling me, "that's not real Mexican food. You've got to go over to East Austin for real Mexican food."
A few years ago while at the office, mail arrived in a box for me from Jimmy. I opened the box to reveal a cool UT pullover that I have to this day and am proud to wear. I don't know why he sent it, but like everything else, the man did it because he wanted to. No, you don't forget things like that.
Now comes the time when we celebrate, salute, and honor you, "Duke of Earl," upon your retirement. You are most deserving and have left an example for all of us to follow about how to live, how to love, how to laugh. I am beyond proud to call you a dear personal friend and excited for the next glorious phase of your life, because, well, I am certain it will be something that I won't soon forget.
Director of the Frank Erwin Center Announces Retirement
Austin, Texas – After over 40 years working in the facility management industry, Senior Associate Athletics Director of the Frank Erwin Center, Jimmy Earl, announced this week that he will retire at the end of September. Earl is only the third director of the Erwin Center since the building's opening in 1977.
Earl was the first Events Manager of the Erwin Center and has also had experience in large convention complexes, such as the Fort Worth/Tarrant County Convention Center where he was the Manager from 1987 to 1990. Earl completed the Leadership Austin program in 1994, has served with the Austin Arts Commission, the UT Mentor program, Pflugerville Education Foundation (President), Steward Board Metropolitan AME Church, Travis County Amateur Radio Emergency Service (Public Information Officer), Amateur Radio Operator, Extra Class WB5MET and various other boards in Austin.
Earl is a member of Omega Psi Phi Fraternity, Inc., a 1993 graduate of the Public Assembly Facility Management School at Oglebay and attended the Senior Executive Symposium at Cornell in 1997. He has also been an active member of the International Association of Venue Managers (IAVM), the acknowledged leader in public assembly facility management, since 1987.
He has served on several IAVM committees including Convention Centers/Exhibit Halls, Professional Development, Diversity, Arenas, Universities and Publications. Additionally, Earl has served on the IAVM Board as Director-at-Large Universities, Board of Governors Senior Executive Symposium, and the IAVM Foundation as a trustee. In 1995, he attained the Certified Facilities Executive (CFE) designation. He is also a past president of IAVM and in 2016, he was awarded IAVM's Charles M. McElravy Award, which is given to a Professional, Honorary or Retired member of IAVM, who in the opinion of the Board of Directors has made extraordinary contributions to the Association or the profession of public assembly facility management.
Earl's colleagues shared the following memories and praise upon hearing about his retirement.
"How could I not love the man who named me the "Moses of Rock 'N' Roll"? Jimmy is like that Sade song "Smooth Operator," no matter what the problem, he always made it go away. He is not only a great building guy, but he's my friend – I love you Jimmy "Duke Of Earl" – best of luck my friend!" – Louis Messina, CEO, Messina Touring Group, LLC
"The Frank Erwin Center brings special memories to mind, not only because of the wonderful basketball team performances and fan support, but because of the people. The people who supported athletics, entertainment, music and cultural events, that put Austin on the map. Over the decades, I have considered Jimmy Earl a friend and true teammate. He and I shared a passion about increasing diversity on our campus. He spent nearly his entire arena management career at the Erwin Center, rising to the very top level of respect in his profession while the venue emerged as the world's most productive campus-based multipurpose arena. Jimmy cared about the success of our program no less than that of the biggest rock and roll show staged there. He listened to what mattered to us, and he and his staff worked tirelessly to deliver events in a first-class manner. I will miss our entertaining discussions and banter, from which we always emerged somewhat weary but ready to take on the next exhilarating opportunity to join hands and make our great University a more accessible and embracing place. For that, I'm ever thankful for Jimmy's service and friendship." – Jody Conradt, Former UT Women's Basketball Head Coach (1976-2007), Texas Athletics
"Jimmy Earl has done an outstanding job for The University of Texas for many years. As Senior Associate Athletic Director, he has managed the Erwin Center, which is one of the most complex institutions within The University, with professional style and grace. The University owes Jimmy a great deal of thanks for the support that he has given our scholarship athletes, as well as the many people who have enjoyed a wide variety of events at the Erwin Center." – Dr. William Cunningham, Former Chancellor (1992-2000), The University of Texas System