By R.V. Baugus
We came upon a little piece of news that flew under the radar. That is, until our astute friend Rick Haycock, CVE, touched base with me to share the news that he thought IAVM members would take an interest in. As I replied to Rick, you are more than correct about that, sir!
Jody Lake, CVE, IAVM retired member who has meant so much and done so much in support of the Association and the industry, was recently recognized with an induction into the Hall of Fame at Weber State University and Wildcat Athletics, where she served for 40 years with the same passion and love as she held for her volunteer roles in IAVM.
We will just let the press release addressing Jody's induction take it from here, and will also include a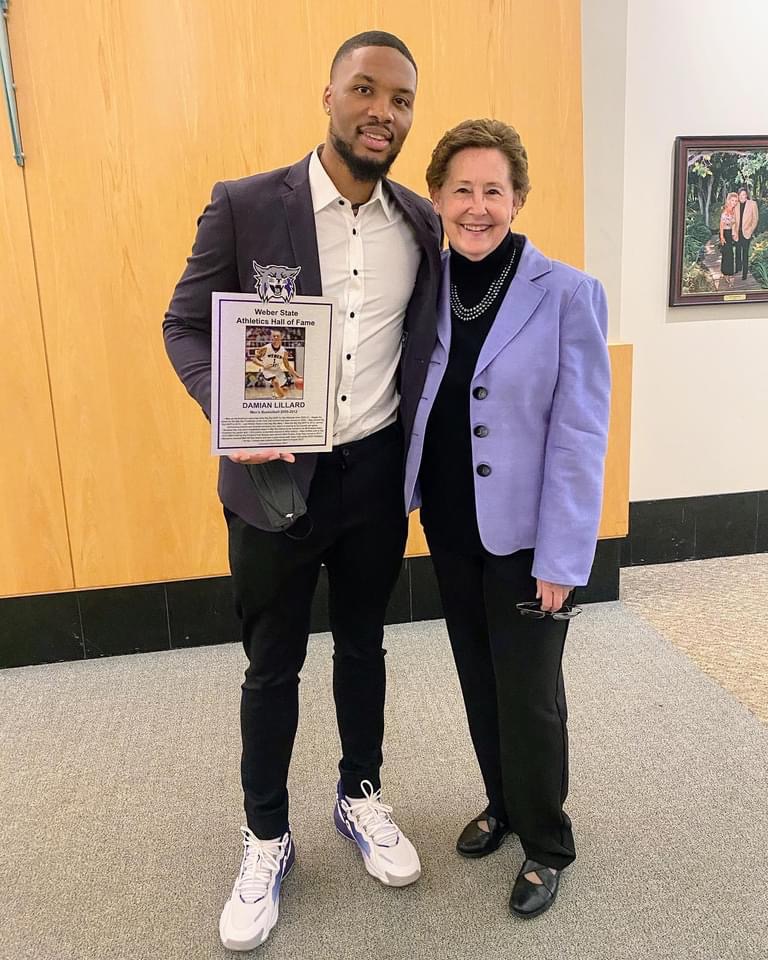 link to the full press release to share the names of other inductees, including Portland Trail Blazer star Damian Lillard (see picture).
As Rick shared and we agree: Jody is a special person and, as modest as she is, she would never put this out on her own. Someone else brought it up on one of our many calls and you could tell she was as proud as she was shy!
The release:
As part of the Hall of Fame ceremony, Jody Lake will receive the Reed K. Swenson Distinguished Service Award, honoring her longtime service to Weber State University and Wildcat Athletics.
Lake worked at Weber State and the Dee Events Center for 40 years from 1980-2019, including more than 20 years as the director of the Dee Events Center. During her career, she helped coordinate the hosting of several thousand events at the Dee Events Center from basketball games, to graduations, to concerts, to religious events, and numerous community events.
During her time at the Dee Events Center, Weber State hosted four NCAA Tournaments and multiple Big Sky Championships, in addition to serving as the home for Wildcat men's and women's basketball. The DEC also hosted a dozen Utah Jazz preseason games as well as numerous high school basketball tournaments and was the home for Weber State volleyball for many years.
Under her guidance, the building also had several upgrades and improvements and the Dee Events Center continues to serve as a home for Weber State University and the community. She was also involved in the building of the Weber County Ice Sheet, the Marquardt Field house and the Weber State softball complex.
Lake retired from Weber State in July 2019.
For the full announcement, click here.