Executive Senior Associate Athletics Director of the Frank Erwin Center, John Graham, announced last week that he will retire from his position at the end of August 2017. Graham is only the second director of the Frank Erwin Center, following Dean Justice, CFE who opened the venue in 1977 at the University of Texas at Austin.
Graham got his start in the arena industry in 1980 as the events manager of Assembly Hall (now State Farm Center) at the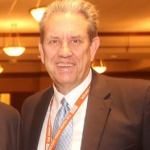 University of Illinois at Urbana-Champaign. He spent nine years at Assembly Hall, working his way up to assistant director and then associate director, before moving to Austin to join the Frank Erwin Center as associate director in May 1989. He was then promoted to director in October 1990.
During Graham's 28-year tenure, he was instrumental in bringing world renowned events to the Frank Erwin Center including the first ever WWF (now WWE) event in 1989, which was a sellout with approximately 17,000 fans in attendance, the Davis Cup quarterfinal between the U.S and Spain in 2011, two nights of Paul McCartney's 2013 "Out There" tour, a project which took approximately two years to come to fruition, and most recently, the iHeartCountry Music Festival, which returns for its fourth year this May.
"I knew of John's great work long before I became Men's Athletics Director from attending events ranging from graduations and concerts to memorial services," said Mike Perrin. "I've always had great admiration for how he managed the Erwin Center. Along with all of the Longhorn athletics events he's overseen for decades in a first class fashion, he consistently attracts some of the finest entertainment available to our campus and the city of Austin. There's always something special going on at the Erwin Center, and John and the staff do an amazing job of handling every detail so a variety of events can go off without a hitch. The quick turnaround between tightly scheduled events has always impressed me. Since becoming Men's AD my appreciation for John and his service to our Athletics Department and University has only grown. We will miss him, his good humor and his positive presence, but I join his other admirers in wishing him the best in retirement."
Former Chancellor of the University of Texas System Dr. William Cunningham remembers fully well the responsibilities that came along with Graham's position.
"John Graham has one of the most difficult jobs at The University – managing the Frank Erwin Center," Cunningham said. "He is responsible for the financial integrity of the Erwin Center, as well as maintaining an excellent relationship with the performers, staff, and patrons of the Erwin Center. John's drive for excellence in all endeavors will be greatly missed at the University when he retires."