By his own admission, John Siehl, CFE, is not one to often be left speechless. In fact, he calls it a rarity. But the cat got his tongue, so to speak, when a recent call arrived from IAVM Chairman Mark Mettes, CFE, to share the good news that Siehl would be receiving the industry's most prestigious recognition in being named recipient of the Charles A. McElravy Award, to be given during VenueConnect in Nashville, August 7-10.
"When Mark called to tell me the news, well, you don't catch me speechless too many times but I was at that moment," Siehl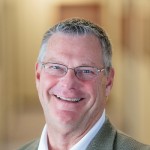 said. "As I told Mark, I have been in this industry for 53 years now, having started as an usher in 1965, and this is an incredible recognition. I am honored to join ranks with the great group of individuals who have received this award."
Thus Siehl, vice president and chief operating officer of VenuWorks, joins the list of professionals to receive an award initiated in 1963 that is granted for extraordinary contributions to the Association and the professional venue management industry it serves.
After that humble stint as an usher to begin his career at Hara Arena in Dayton, Ohio, Siehl quickly moved into management and was named general manager in 1982. He joined the staff at the Ervin J. Nutter Center at Wright State University in 1990 and served there as general manager for more than 20 years. Siehl served IAVM as its president (now called chair) in 2010-11.
"It's quite an honor and it has been an incredible life," Siehl said. "I can't say much more. It's the industry that has helped me accomplish so much. I just love it and am humbled and proud to join the ranks of all the people that have been McElravy winners before me. I just really couldn't be any happier right at the moment."
"The passion and dedication that John Siehl has for our association and industry comes through in everything that he does," Mettes said. "Whether it is his time as chair of IAVM, his work on the Academy for Venue Safety & Security (AVSS) or the many other ways he has served our association, this honor is well deserved."
Based in Dayton, Siehl serves on many local boards including Ronald McDonald House Charities, The Aullwood Audubon Center, Greene County Foundation and Special Wish. He was two-time president of the Fairborn Chamber of Commerce and is past president of the local Convention and Visitors Bureau. Siehl is also a volunteer in Dayton as a bereavement counselor.
Siehl said he had not thought much in advance about the award but that once he was notified it was the "capper" to his career.
"It's something you just don't think about," he said. "I can't say I had given it much thought. Other people receive the award at VenueConnect and you think, oh, that's really nice, and, boy, they really deserve it, but you just never really put yourself in that place. It's just an absolute incredible honor. I literally was speechless.
"But I am absolutely thrilled to be able to be honored by an association that has literally been my life and industry that has given me so much. I just hope that I have given back to them."