The International Association of Exhibitions and Events® (IAEE) celebrated a successful Women's Leadership Forum on April 29-30 at the Lansdowne Resort and Spa in Leesburg, VA, that included the selection of Julie Pazina, CEM, National Director of Sales at Edlen Electrical Exhibition Services, as recipient of the association's Woman of Achievement Award.
Raised in Atlanta, Pazina moved to Las Vegas in 2002 while working for the cruise industry. She found her home in Las Vegas and never looked back, joining Edlen Electrical Exhibition Services, a family-owned and operated company based in Las Vegas that has grown into the nation's largest independent temporary utility contractor for trade shows, conventions and special events. In her position, Pazina oversees sales in the Las Vegas market as well as supporting regional and national sales efforts.
Pazina is an active IAVM member and also an IAEE member since 2006, where she has served on various committees and task forces on the national level. Her nomination included support from long-time IAEE members and industry veterans who commended her for her industry involvement, including a very active history with her local chapter. She is well-known among young professionals as a welcoming force who is generous with her knowledge and experience, which also earned her the IAEE Young Professional Award in 2011.
"I am passionate about the events industry, and IAEE has given me the opportunity to learn, grow and build lifelong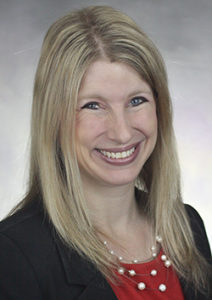 friendships," said Pazina. "Being named the recipient of the Woman of Achievement Award is an honor, and I couldn't be prouder to be among so many smart, accomplished, engaged women in this industry."
Pazina served on the Board of the Las Vegas Hospitality Association for six years, including her tenure as president in 2013. She is also a member of the Junior League of Las Vegas and an active community volunteer. A graduate of Vanderbilt University with a double major in Political Science and Communication Studies, Pazina recently engaged in a campaign for a Nevada State Senate seat in order to represent her community in upcoming legislative sessions.
"Julie has a passion for the industry and fully devotes herself to her volunteer commitments," said IAEE Executive Vice President and Chief Operating Officer Cathy Breden, CMP, CAE. "Her run for a seat in the Nevada State Legislature was very inspirational, and she is a great role model to other women both in and beyond our industry."