By Tyler Koonce
Henderson Engineers announced the promotion of Julie Pierce to senior vice president. This promotion was a natural next step for Pierce who stepped into a business unit leader role at Henderson last year following her successful tenure as the director of operations for the firm's Kansas City, Missouri office. Pierce will help guide the firm's growth along with its executive leadership team.
Since joining Henderson in 1998, Pierce has risen through the ranks from project manager to team leader to senior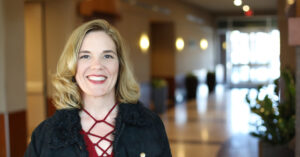 leadership. She will continue to operate as a business unit leader for Henderson, overseeing engineering teams that specialize in K-12 education, sports and recreation, venue, higher education, and workplace projects. Pierce also leads the firm's architectural lighting design group, which she cofounded in 2002.
"Julie has been a crucial part of our firm's development since she joined us more than 21 years ago," President and CEO Rich Smith said. "Her positive energy, diligence, integrity with clients, passion, and technical skill for her craft is unmatched. Julie has been a mentor and friend to so many during her tenure and has played a huge role in our record growth as a firm."
"I am incredibly thankful to Rich and the entire leadership team for having the faith in me to grow into this exciting new challenge," Pierce said. "Throughout my career at Henderson, I've been able to connect my passions to provide engineering solutions for our clients, mentoring and professional development to colleagues and students, and contribute to the revitalization and development of Kansas City. I am beyond grateful and can't wait to see our firm continue to grow and change the industry."
At Henderson, Pierce is passionate about professional development and cofounded Empow[HER], the firm's dedicated women's network. Created for women by women, the Empow[HER] program was designed to help propel women within the company and industry through collaboration and connections. Empow[HER] offers educational sessions, networking, and programs that foster the growth of professional relationships and encourages girls and young women to develop an interest in and eventually pursue careers in STEAM (science, technology, engineering, art, and mathematics) fields. Since the program was launched in 2014, membership has grown to more than 100 individuals. The group produces more than 15 internal and external programs each year, including the popular Junior Engineering Day.
Pierce also is a member of numerous civic initiatives throughout Kansas City, including serving as the incoming chair of the Downtown Council of Kansas City. After serving as vice chair of the organization and chair of the business retention and attraction committee, Pierce is poised to take over as the chair on Nov. 1 and is looking forward to helping advance key initiatives such as the Downtown KC 2030 Strategic Plan.
She is a member of the KC Chamber's Executive Women's Leadership Council, served on the board of directors for the American Institute of Architects (AIA) – Kansas City chapter, participates as a mentor in Lead to Read KC, and was a judge and mentor for Future City. In 2018, she was honored in the Kansas City Business Journal's "Women Who Mean Business" class and received the Groundbreaking Leadership STEMMy Award from Central Exchange.
Also in 2018, Pierce was inducted into the Civil, Environmental, and Architectural Engineering Academy (CEAE) at the University of Kansas. This prestigious recognition honors distinguished alumni and friends in recognition of professional achievements, civic service, advocacy, and support for KU CEAE. Pierce graduated from KU in 1994 with a Bachelor of Science in architectural engineering.
Tyler Koonce is communications manager for Henderson Engineers.