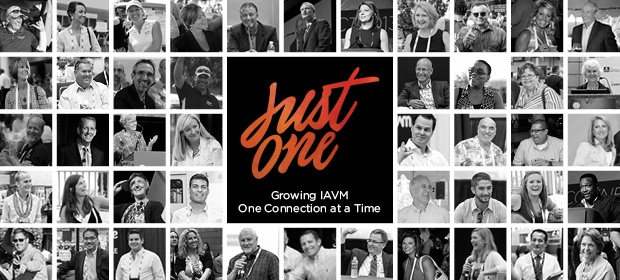 JustOne is an initiative created by IAVM's Membership Committee. This recruitment campaign gives IAVM volunteer leaders – Board of Directors, Trustees, Regents, Committees and Task Forces – an opportunity to recruit at least one new member.
5 Weeks Left – Campaign Ends July 15, 2017
You represent the very best of venue management. Now, it's time to identify the next round of leaders that will propel IAVM to new heights, but more importantly, provide you with expanded connections to give you more vibrant experiences and discussions at our schools and conferences. By having a larger more diverse network, everyone benefits.
GOAL: Today, we have 279 individuals involved in IAVM's governance. Our goal is to have 100% participation by our leadership; if successful, we will add 279 new members.
REWARD: The committee and individual that refer the most new members will be recognized in Nashville at VenueConnect. To receive credit, give your new member these directions for completing the online membership application:
"How Did You Hear About Us" field – enter "Just One"
The committee you want to receive credit should be referenced; important if you serve on multiple committees

Example: Just One-Membership Committee

Provide the name of your referral:

Example: Nick Zazal, Walton Arts Center/Walmart AMP

One-time initiation fee will be waived

In the payment information section, enter the promo code: JUSTONE
If applying for Professional or Supplier membership, only the dues will remain (savings of $150*)
*Discounts only apply to new members
JustOne presents the opportunity for each IAVM member volunteer to encourage a colleague, star employee, customer, allied, professor, or student to become a member of our unique community. Direct your referral to www.iavm.org/membership/join.
Get your competitive juices flowing and help us meet our goal, 279 volunteers connecting 279 new members with IAVM. The campaign ends July 15, 2017.
Contact Member Services at 972-906-7441 and ask for Gina or Summer. Thank you for your support!