JustOne: This new, annual, recruitment campaign was designed so that IAVM volunteer leaders could recruit at least one new member with a goal of 100 percent participation. The campaign launched at VenueConnect in Baltimore 2015 and ended March 31, 2016. Of our 231 volunteers, 33 committee members recruited new members—a total of 14 percent participation. All of you worked behind the scenes to help grow our membership, build your network of experts to collaborate with, and identify future leaders, so we can't thank you enough!
The best news is we've added 155 new members as a result of JustOne!
Below you will find the recruitment leaders in this inaugural year of JustOne. The individual leaders are shown in red and green: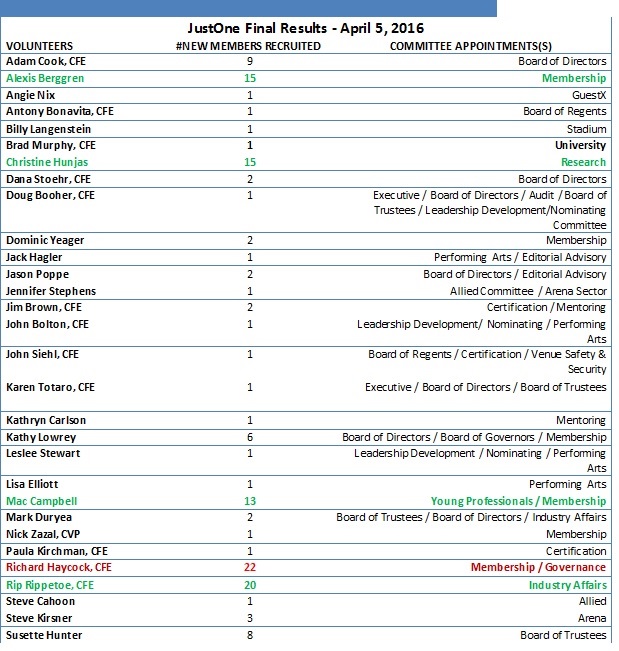 Top Six Recruiters
• Rick Haycock, CFE – 22
• Rip Rippetoe, CFE – 20
• Tammy Koolbeck, CFE – 16
• Alexis Berggren – 15
• Christine Hunjas – 15
• Mac Campbell – 13
Committee Leaders*
• Membership Committee – 59
• Board of Directors – 24
• Industry Affairs – 22
• Board of Regents – 18
• Board of Trustees – 12
*Volunteers on multiple committees were given credit for each active committee they serve on with 22 committees participating!
Many of you sent emails advising you were recruiting so if your name doesn't appear, we know you were working hard to support this initiative. IAVM volunteers are the best. Thank you for all you do to continue to support your association.
On behalf of the Membership Committee, thank you, Danke, Gracias, Grazie, Je vous remercie, and so on!!!
If you have any questions or perhaps your referral did not list your name, please let me know. Thank you!