This is what the live entertainment industry means to its fans.
Country music artist Kane Brown extended a special meet and greet request prior to his performance at the Swiftel Center in Brookings, SD, to members of Tanner Schwagel's family – Hilary (mother) and three sisters (Cassidy, Brooke, and Bailey). Tanner, age 16, of Milbank, SD, passed away October 7, 2018, in Sioux Falls.
"I just wanted to thank you and the Swiftel Center for allowing me and the girls to meet Kane Brown," wrote Hilary Schwagel, Tanner's mother, in a note to staff. "It will be a memory they will have forever."
Tanner was on the hood of a moving car on a rural road southeast of Milbank when his foot got caught on the front bumper and he was dragged beneath the car. Tanner was first taken to the Milbank hospital, then was airlifted to a Sioux Falls hospital where he passed away. Tanner was a sophomore at Milbank High School at the time of his death.
Prior to Tanner's death, his mother – Hilary – had purchased tickets to the Kane Brown concert at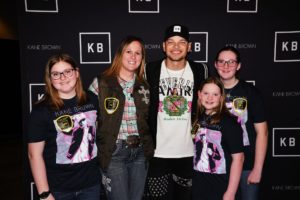 the Swiftel Center as a surprise for Tanner. Kane Brown was one of Tanner's favorite artists and he had mentioned on several occasions his excitement about wanting to see him perform. To honor Tanner's memory, Hilary and three of her daughters attended the concert. Hilary reached out to Swiftel Center venue management who connected with tour management who ultimately extended the special meet and greet access to the Schwagel family. Hilary expressed how special it was to meet Kane Brown as he was such a big part of Tanner's life.
"I just loved how humble and supportive he [Kane Brown] treated us," wrote Hilary. "He is such a great guy. The girls talk about it all the time and it was such a great experience. Thank you!"
Hilary also shared that her father served in the National Guard for 35 years and was deployed twice while she was growing up. Kane's song "Home Sick" holds a very special spot in her heart as it brings back all the memories of when her dad served for our country.
Tanner was a member of the Northern Lights 4-H Club. Shooting sports and welding were his favorite projects. Tanner also loved fishing and hunting. He would spend time checking for fish at the creek and would wander through the pasture to see if there was any wildlife walking around. Tanner liked to prank his mom and sisters, yet, he had a tender side for them even though he was a "teenager." On Halloween, one of his favorite pranks was to ring the doorbell and hide from his family who answered the door, a silly prank to make people laugh.
Photo from left: Brooke Schwagel, Hilary Schwagel, Kane Brown, Bailey Schwagel, and Cassidy Schwagel.