By StadiumBusiness.com
The Kansas City Royals have maintained that a new ballpark is required, as opposed to renovation of Kauffman Stadium, while stating they are committed to remaining in Kansas City.
The Major League Baseball (MLB) franchise recently held its first public community meeting following last month's announcement from chairman and CEO, John Sherman, that it had identified several sites to develop a proposed $1.62 billion downtown ballpark and mixed-use development that would be the largest public-private project in Kansas City history.
"We know this is a big, big decision and it's one we aren't taking lightly," said Sherman. "We know making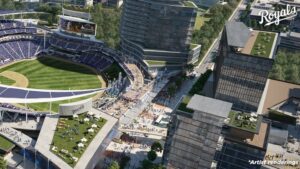 a decision for the next 50 years is the key thing. We want the Royals and Major League Baseball to thrive in this community for years to come."
While there is no firm timetable in place for the project, Brooks Sherman, Royals chief operating officer, stated the earliest a stadium could go to a vote in Jackson County would be August 2023. Some 14 sites have been assessed in downtown Kansas City, with Sherman pledging that the team would not leave the city.
Populous has been engaged for the project and the Royals outlined that it would cost more to renovate Kauffman Stadium than it would to develop a new ballpark. Renovations are also projected to take a further two years to complete, with 70% of the stadium needing to be replaced.
The new stadium is expected to have around 35,000 seats with a capacity of 38,000, including standing views of the game. The Royals expect the projected $2 billion total cost to be split roughly 50/50 between the stadium and the mixed-use development, with the majority of this to come from investors and the team's ownership group.
"The bulk of the capital will come from private investors and this ownership group," Sherman said. "We're still early on in this process, but all of that will be shared in great detail. It will be a far better investment to build new. Developing a new ballpark with high energy will bring many benefits to this community."
Sherman acquired the Royals with a group of investors in 2019. In September 2021, he confirmed that the Royals were considering a move to downtown Kansas City, with the team conducting an internal process to evaluate its options of where to play.
The Royals have played at Kauffman Stadium since it opened in 1973 and the team's current lease at the venue expires in 2031. Kauffman Stadium forms part of the Truman Sports Complex, which also includes GEHA Field at Arrowhead Stadium, home of the NFL's Kansas City Chiefs. The Chiefs are also currently weighing their stadium options.