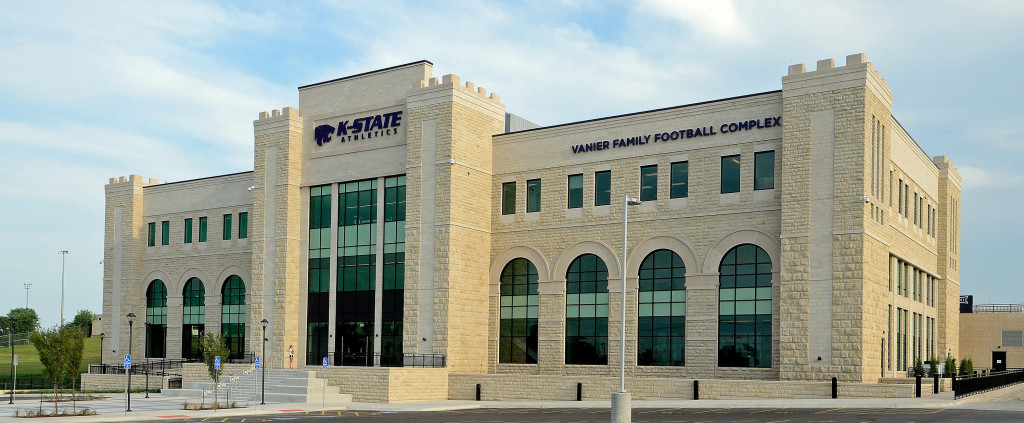 The Vanier Family Football Complex is now open at Kansas State University.
"It is a great day for K-State as the beautiful new Vanier Family Football Complex is operational and open for our football staff and student-athletes," said Athletics Director John Currie in a statement. "This new facility is another example of our commitment to a world-class, student-athlete experience and being a model intercollegiate athletics program while furthering our position as a leader at the highest level of intercollegiate athletics. We appreciate the flexibility of our staff during this process and also the hard work and hustle of our design and construction management teams as well as all of our donors who helped make this project a reality. It was truly a team effort, and I know this is a facility that the K-State Nation will be proud of and will be the envy of all other programs."
The 132,000-square-foot building was completed in just seven months by the construction management team of Mortenson & GE Johnson Construction and in conjunction with sports design firm Populous ahead of schedule and under budget.
"Our ability to finish early and under budget was predicated on a 'project first' mentality," said Adam Hardy, senior project manager for Mortenson/GE Johnson Construction, in a statement. "Nearly 1,700 craft workers worked through freezing temperatures, torrential downpours, and 60-hour work weeks to make sure the K-State Family would return to a new-and-improved stadium."
The complex includes a new student-athlete enhancement center, an 18,000-square-foot Olympic-quality strength and conditioning center, and a new sports medicine and recovery facility. There are also individual position meeting rooms and offices for the staff, as well as a locker room that is twice the size of the previous room.
"The Vanier Family Football Complex represents K-State's commitment to excellence in athletics, academics and the student-athlete experience," said Ben Stindt, principal at Populous. "The design combines an efficient design with state-of-the-art technology and high-end amenities that will make the complex feel like home for student-athletes, staff, and fans. This is the next generation of the training experience and fan experience in collegiate athletics."
Members of the football team were provided their first access to the facility on last week, which you can watch below.
Members of the Vanier family, the namesake of the new complex and lead contributors to the facility, were also there for the first look.
"The facility is absolutely incredible and something that the student-athletes and fans deserve," John Vanier said. "I had the opportunity to travel around the country touring other facilities when this process began, and I did not see any other that even compares to this one. It is absolutely the perfect facility and one that every school in the nation would aspire to have."
(Image: Populous)