The International Entertainment Buyers Association (IEBA) this week announced the recipients for its 2018 Industry Awards at the annual Honors & Awards Ceremony including selecting Kim Bedier, CVE, as Venue Executive of the Year. IEBA is a not-for-profit trade organization for live entertainment industry professionals, founded in 1970. Bedier is director for Tacoma Venues & Events at the City of Tacoma. She served as chair of IAVM in 2014-15.
"This industry and the people I work with every day inspire me. It is a privilege to be part of an amazing team committed to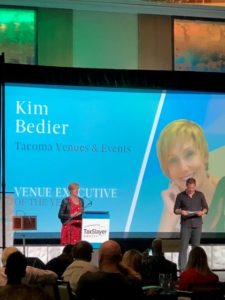 delivering superlative service and making memorable experiences for all of our guests at the Tacoma Dome," Bedier said. "It is particularly exciting to receive recognition – for all of us – as we embark on the most exciting time as we debut the newly refreshed Dome."
The Tacoma Dome is completing a four-month revitalization that includes all new seating, concessions, additional restrooms, backstage artist quarters, loading docks, and more. The Dome will re-open in October with annual consumer shows like the RV Show and Holiday Food & Gift and host eight concerts in November.
Bedier serves as Director, Tacoma Venues & Events for the City of Tacoma, where she is responsible for the Tacoma Dome, Greater Tacoma Convention Center, Pantages and Rialto Theater, Theater on the Square, and Cheney Stadium. She serves as a board member for Travel Tacoma and Tacoma South Sound Sports.
An industry-leader, Bedier has successfully opened three new arena construction projects, including the XFINITY Arena in Everett, which received the venue industry's top award in 2010 for Arena Excellence.
Bedier served over a decade on the Board of IAVM and currently serves as an instructor at the Venue Management School and Graduate Institute, in both the United States and Australia.
Bedier serves on the Board for Enduris Washington, is a member of Rotary 8 of Tacoma, and is a past board member of Domestic Violence Services of Snohomish County, Rotary Club of Everett, and the YMCA of Snohomish County.
For more information about the Tacoma Convention Center, click here.