By R.V. Baugus
Oak View Group has announced Kim Stone as president of UBS Arena and executive vice president of OVG East Coast.
Stone will be based in Belmont Park, New York, and oversee all UBS Arena business and building operations. She will also be responsible for all OVG East Coast owned and operated properties, including Baltimore Arena, which is scheduled to open in February 2023. UBS Arena is the home venue for the New York Islanders.
"The opportunity to work with an innovative leader in Tim Leiweicke and build something special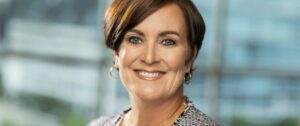 at UBS Arena and OVG is simply a dream come true," Stone shared in an email. "It's a rare gift to join a team that values diversity and is a positive disruptor in our sports and entertainment industry."
Stone moved back to Miami last summer after opening Chase Center in San Francisco. For the past year she has worked again with the Miami HEAT as EVP of Human Capital and Special Projects. "I enjoyed the role, but this was too good to pass up," she said.
She begins her new position on August and will report to both the board of managers of UBS Arena and Francesca Bodie, president of business development for OVG.
"I'm delighted to welcome Kim to the team and look forward to seeing her take UBS Arena to new heights as we continue to build stellar momentum at OVG," Bodie said.
As part of her new role with OVG, Stone will oversee and implement the strategic plan for UBS Arena and its surrounding area, and drive profitability and ticket sales for all events.
"Kim is an excellent fit to lead our world-class organization at both UBS Arena and OVG East Coast venues and I'm thrilled to have her join the OVG team," said Leiweke, chairman and chief executive officer of Oak View Group.
"The New York Islanders, as a partner in UBS Arena, are delighted and honored to welcome Kim Stone to our family," said Scott Malkin, co-owner of the New York Islanders. "Her commitment to excellence, in every step of her career, sets the standard for our organization."