AEG Merchandise reported its third largest day of sales in STAPLES Center history, grossing more than $820,000 during Lakers Legend Kobe Bryant's jersey retirement earlier this week at STAPLES Center in downtown Los Angeles.
As L.A. LIVE erupted with nearly 10,000 fans throughout the day for "Kobeland," a free amusement-park style street fair prior to the Lakers vs. Golden State Warriors game, during which Bryant's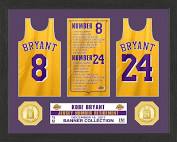 No. 8 and No. 24 Lakers jerseys became the historic franchise's 11th and 12th numbers to be retired and permanently displayed in the rafters of STAPLES Center, AEG's three brick and mortar merchandise locations in Southern California collectively sold more than $670,000 in product.
"Having witnessed Kobe Bryant's entire Lakers career, it was no surprise how many fans would want to acquire a piece of memorabilia to celebrate and remember one of the most remarkable careers in NBA history," said Lee Zeidman, President, STAPLES Center and L.A. LIVE. "Kobe's impact on the NBA, Los Angeles Lakers and fans everywhere may never be duplicated and it has certainly been our privilege to share so many great moments with him and his fans including last night's celebration."
Throughout the day AEG's Team LA Store at STAPLES Center sold more than $600,000 with an additional $147,000 in online sales, while the New Era D Lab at L.A. LIVE sold nearly $40,000 in specially designed New Era caps and merchandise while the Los Angeles Lakers Team Shop, owned and operated by AEG, saw more than $20,000 in sales, generating $824,000 in sales.
"Through our understanding of Kobe Bryant's influence on the Lakers organization, the City of Los Angeles and fans around the world, AEG teamed up with New Era, Nike, Kobe Inc. and Highland Mint to provide fans with high quality and collectible merchandise for this momentous occasion," said Sean Ryan, vice president of merchandise, AEG. "Monday's day-long tribute and overall phenomenal sales of the specially created items truly speak to the iconic legacy of Kobe Bryant."