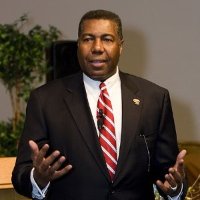 Larry Perkins, CFE, CPP, CMP, is a giving person. For many years, he's given back to and volunteered for IAVM in countless ways that have helped the association.
"Over the years, I have been a volunteer leader with IAVM; from Crowd Management to heading the Safety and Security Task Force, ADA White Paper, VMS (Oglebay) Class President and 2004 VMS Chair to vice chairs of the Safety and Security Task Force, where I helped establish the Academy for Venue Safety and Security, help write the industries SSTF Best Practices, have spoken around the country to help promote IAVM programs, worked with DHS on the IAVM Foundation Grant for AVSS and served in IAVM senior leadership—2006/07 Chairman, which was an honor and a privilege," Perkins said.
His generosity extends to other organizations, as well. Case in point: Foster A Voice, a nonprofit organization focused on bringing about awareness, education, providing support, and being a voice for foster children, adoptions, kinship care, and for those children living in an unsafe environment.
"We have launched a Kickstarter crowd funding program to raise funds so that we can create a short film entitled Silence that focus on the plight of foster children, the many crisis situations that places children in the foster system," said Perkins, vice president and assistant general manager of the PNC Arena in Raleigh, North Carolina. "Our goal of $200,000 is a long way off."
Perkins said that the name Silence was chosen because it depicts and describes the viewpoints of the mindset of fosters/adoptions, never opening their hearts, harboring and masking the pain they suffer in silence.
"Many act out to relieve the pain and frustration of not being adopted; not having parents, being separated from siblings and no home to call their own, no one to tuck them in bed at night," said Perkins, who is also the president and CEO of Foster A Voice. "'Silence' also fits many in our social world who won't help fellow humans, don't see the problems, or just ignore them. Many are not aware of the cost we and they pay, repeatedly—going from foster care to welfare, to prison, becoming homeless, those turning to drugs and alcohol, or selling themselves."
However, the real work starts after the film is completed, because Foster A Voice plans to create programs that deliver change and have real hands to help.
"We are creating a program entitled "Cycle Out," Perkins said. "It's a program that utilizes volunteer mentors, grouping them according to skills sets such as accounting, health care, business, finance, trades, educators, and influencers. The idea for these groupings is patterned after an internship program, where fosters rotate from one mentor to another with the skill sets mentioned over a period of weeks and months. By engaging fosters in this fashion, mentors help them break the cycle. A foster enters the program before aging out to the world."
Perkins knows firsthand the experience of being a foster, and he wrote about it in his new book, Buck Seventy-Two: A Destiny of Will (releases May 1, 2015).
"I'm pledging the proceeds from my new book to help make Silence," he said. "May is Foster Care Awareness month, and we want to have secured the funding and go ahead to start production.
"I feel so strongly about this, I feel it's' the right thing to do," he continued. "It's not for me; I just want to give back."