By R.V. Baugus
With as many skins on the wall (not to mention abbreviations after his name) that Larry Perkins, CVE, CPP, CMP, has, there is not much out there that surprises one of the industry's truest gentlemen and respected practitioners. That is, though, until word arrived in a phone call from IAVM Past Chair Eric Hart, CVE, that the retired Perkins is the 2023 recipient of the Ray Ward Award presented annually at Venue Management School (VMS).
"When you're a past president (now chair), obviously things slow down for you a little bit," Perkins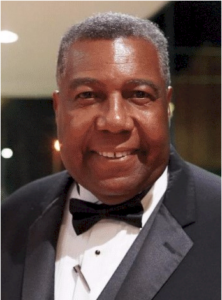 recalled. "I got the call from Mr. Hart, and it was amazing. I thought, my phone hasn't rung in a while other than from the PNC Arena (in Raleigh where Perkins worked before retiring on June 10, 2022), so I was like, 'Who?' It was really funny. I thought he was pranking me, and we actually did laugh about it."
Once reality set in, Perkins felt a sense of being overwhelmed to join not only a select list of individuals recognized for their work at VMS but for the man for whom the award was named.
"There is so much that I can say about Ray Ward. Consummate professional in every sense of the word. When you saw Ray, you knew that everything was in good hands. There was no question about it. He was methodical. He was relentless in his professionalism," Perkins said.
Perkins remembered how Ward would sit in a classroom, a man with a wealth of knowledge but never so much that he would not look for that one extra nugget that someone might be presenting.
"Now here's a guy that knew everything and was the godfather of the school, but he would sit there when he wasn't teaching listening to somebody else," Perkins said. "I'm thinking, wait a minute, he teaches class over and over. That was one of those lessons that I took away that no matter what you think you know, there's always one more nugget that you can take away."
Perkins is also synonymous with VMS as a student in 1997 and 1998, teaching from 1999 to 2006 and serving as chair in 2004. During his term as chair, Perkins and others decided to start the VMS Graduate Institute (of which Perkins will be on a panel this year). It was only fitting that Ward was elected to serve as dean of GI. "I had the honor and privilege of making that appointment and as usual Ray accepted it and the challenge and GI has never looked back," Perkins said.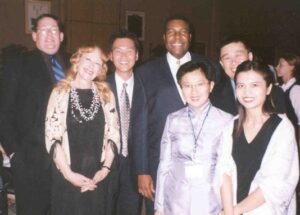 "One other thing about Ray and me together. My first year as an instructor at the school I got to go to Australia to teach at their VMA (Venue Management Association) school. I asked Ray if I could teach his management course that he taught at Oglebay (home to the former Public Assembly Facility Management School and later Venue Management School in Wheeling, WV). He gave me his syllabus and everything. We went over together, and I taught his time management class."
Perkins is one of those Ray Ward Award recipients who obviously knew "the man" very well. Some on the roll call did not have that privilege. To have his name associated with Ray Ward means that much more to Perkins.
"He was always that consummate teacher and teaching and leading by example," Perkins said. "To be listed among the other recipients before me goes beyond words. It goes to heart of hearts and knowing that whatever you tried to give back was an honor of the person that you will be recognized for.
"It is one of those things you look back on and say, what did I do, because at the time you're doing it you're not doing it for an award. You're doing it because it's the right thing to do and then you're looking at leaders such as Ray Ward who set that example and you don't want to let them down.
"I'm a softie at heart. I try to give back and still give back after retirement. I think in my call with Eric I shed a tear. Knowing, again, Ray Ward and his legacy and to be counted as one of those … it's tremendous."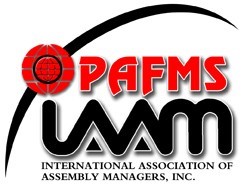 Perkins will forever have a major imprint on the school. Literally, even, as he developed the first PAFMS logo for a school which to that point was simply Oglebay.
Before Oglebay, Perkins was one of the industry's most sought speakers in the area of crowd management and safety and security.
"I fell in love with IAVM immediately and hosted the 10th anniversary of the International Crowd Management Conference (ICMC) in 1992," Perkins said. "This was at the Meadowlands Sports Complex; I had a horse race named for IAAM at our complex track. We took people on a New York dinner cruise, around the World Trade Center, Statue of Liberty, and Ellis Island, where they could take pictures of the New York skyline. We toured Yankee Stadium where Billy Martin and Buck Showalter spoke to us during lunch then we went onto the field. We next toured Radio City Music Hall."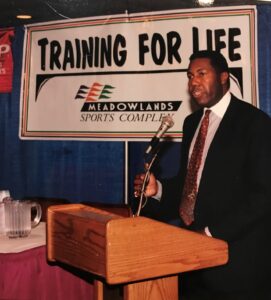 Perkins said his "bug" for all things safety and security took root in the 1980's when Frank Poe and Carol Wallace hosted a crowd management conference in Dallas. In 2001, Perkins and Poe were named by association president Lionel Dubay to head a new task force following 9/11. Perkins was already chair of the ICMC that was held in San Diego in November 2001. He remembers that the conference was so big that it had to be relocated to accommodate 400 people.
"All the things that you do in life prepare you for something," Perkins said. "I got the bug for crowd safety and survival and different things and I'm thankful I have had that experience to help lead the way which then turned into co-founding the Academy for Venue Safety & Security."
After another tragedy in the 2005 Hurricane Katrina, Perkins would become the association's president in 2006-07. It was the right person at the right time to help push the industry as a leader when collaborating with government entities in Washington, D.C.
All things come full circle, and so it does for Perkins and the award he will soon receive.
"There was no question about where Ray Ward stood in terms of his professionalism because he was just a terrific man," he said.
The same can be said of you, my friend.