The Howard Hughes Corporation®, developer of the Summerlin® master planned community, the Las Vegas Ballpark®, and owner of the Las Vegas Aviators®, the city's professional Triple-A baseball team of the Pacific Coast League and affiliate of the Oakland Athletics, announced a partnership with Daktronics. Daktronics has designed, manufactured, and recently installed a new one-of-a-kind LED video display at the Las Vegas Ballpark, featuring a unique angle to match the contour of the outfield wall.
At 3,930 square feet, the new outfield display is the largest Daktronics has installed in baseball's minor leagues and is top 25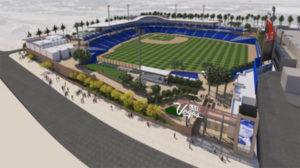 in size for baseball in North America. It features a 13HD pixel layout and measures approximately 31 feet high by 126 feet wide. The stadium's construction team – a joint venture of AECOM Hunt and PENTA Building Group – installed the new display in late 2018.
The display is capable of variable content zoning, allowing it to show one large image or be divided into multiple zones to show any combination of dynamic content. From live video and instant replays to statistics and animations, the display will keep fans entertained at every event.
"Pairing the largest Daktronics LED video display in the minor leagues with the new Las Vegas Ballpark will blow fans away," said Rusty Lenners, Daktronics sales representative. "We're grateful to be working with The Howard Hughes Corporation, the Las Vegas Aviators and AECOM Hunt-Penta on this first-class project. This partnership has resulted in an installation that will excite and engage fans for years to come."
According to Don Logan, president and chief operations officer of the Las Vegas Aviators, the new display is an exciting addition to Las Vegas Ballpark, poised to be one of the country's premier minor league stadiums. "Although the team has been in Las Vegas for 37 years, this upcoming season is the start of a new chapter for the Aviators, with a new name, a new stadium and a new affiliation," said Logan. "It doesn't get better than that."