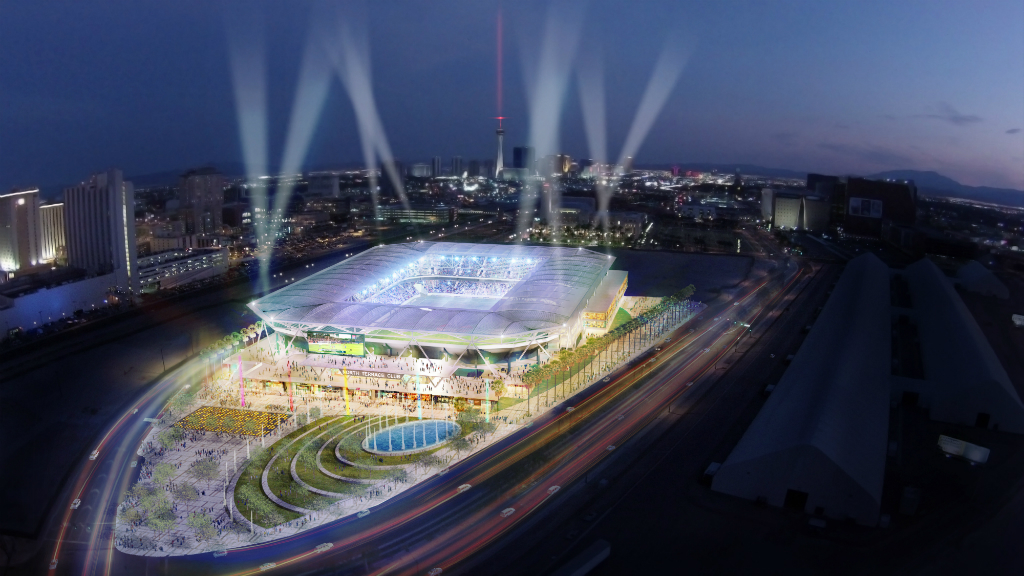 Plans for a Major League Soccer (MLS) presence in Las Vegas took another step toward reality on August 26 when the city, The Cordish Companies, and Findlay Sports & Entertainment announced a term sheet outlining key points. The plans include construction of a 24,000-seat stadium in Symphony Park at a cost of US$410 million. An independent analysis shows that the stadium will generate an estimated $9 million in annual tax revenue and create 700 permanent jobs.
"The time to bring professional sports to Las Vegas is now," said Mayor Carolyn G. Goodman. "The deal negotiated with Findlay Sports & Entertainment and The Cordish Companies will be a win-win for the city of Las Vegas and its residents. I love that both our partners are family-owned companies with great reputations."
The city council will vote on the non-binding term sheet on September 3. Even if it's approved, no construction will start until MLS awards Las Vegas with an expansion franchise. The city council will receive a binding agreement from Findlay-Cordish in December 2014.
"The Cordish Companies is excited to be a part of the downtown's historic revitalization efforts," said Blake Cordish, vice president of The Cordish Companies. "Las Vegas deserves and will absolutely support professional sports. Time and again, downtown sports venues are a proven catalyst for broader urban revitalization."
(Image: Findlay Sports & Entertainment)