The wildfire destruction that swept across eastern Tennessee near the Great Smokey Mountains National Park has left 13 dead with the number of damaged buildings in Gatlinburg standing near 1,000.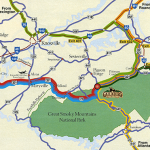 As the fires started early last week and had been burning for several days mostly in the heights of the popular national park, firefighters had difficulty reaching the remote inferno. Soon thereafter, the winds picked up and as of last Monday afternoon, the fires were spreading at a furious pace.
Gatlinburg has borne the brunt of the devastation, but public assembly venues to the north in Pigeon Forge and Sevierville have also been impacted. Pigeon Forge is located five miles north of the national park and is a huge tourist attraction featuring Dollywood and a vibrant music scene. The Sevierville Convention Center north of Pigeon Forge remained open while many in the public assembly venue industry checked on both sites.
"I am happy to report that our facility avoided any damage and none of our staff or their immediate families suffered any losses," Phil Campbell, facility manager at the LeConte Center at Pigeon Forge, told IAVM. "The same cannot be said for our overall community as you may have seen from national press coverage. The current number of fatalities stands at 13 with numerous homes and businesses completely destroyed in the area, particularly in the neighboring city of Gatlinburg. On Monday evening, some previously contained wildfires were quickly spread by 80 mph winds and raged uncontrolled until much needed rains finally moved in.
"We opened the LeConte Center at Pigeon Forge as an emergency shelter at 7 pm Monday evening and quickly began to see displaced residents and visitors arrive. The American Red Cross joined us around 10 pm to provide assistance in sheltering around 400 people whose homes, cabins, condos, and hotel rooms were in danger and mandatory evacuations were issued. By Tuesday night our number of displaced evacuees had been reduced to 44 as people were allowed to return to certain areas, find other lodging, or stay with friends and family. We remained an active shelter until 5 pm Wednesday afternoon when the decision was made to consolidate those remaining with us into another shelter nearby.
"It has been an experience neither I nor our staff will never forget. The outpouring of support from food, water, personal hygiene items, blankets, and clothes was overwhelming. We were blessed with an opportunity to provide safe shelter, medical assistance, and care to many distressed and hurting people. We have now transitioned back into normal operations and actually welcomed in the next event which started on Friday. Pigeon Forge lost no businesses and we are trying to ensure that the everyone knows we are open for business. One of the best ways they help is to visit and support our local economy that employs many of the very people affected by this tragedy."
Farther north, the Sevierville Convention Center remained a "business as usual" venue, according to venue General Manager Martha Norris.
"The Sevierville Convention Center is doing well as we have not been affected directly by the fires," Norris said. "We were not a shelter as we are located about 15 miles from the Gatlinburg area and there are large venues closer in than us. It is amazing that during this disaster we have been so blessed with the outpouring of prayers, love and donations from our surrounding states. I must say what a great area to call home.
"The Sevierville Convention Center as well as the LeConte Convention Center are still going strong as will our neighbor the Gatlinburg Convention Center soon."