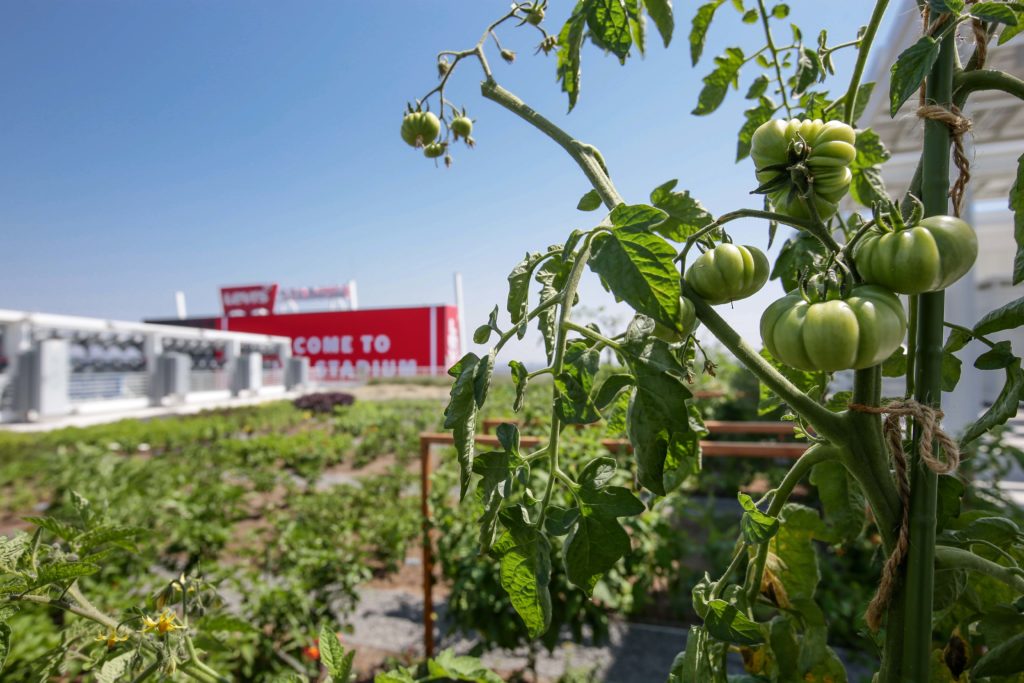 Levi's Stadium unveiled the first-ever rooftop farm on a sports venue last week. Named the "Faithful Farm," it features 40 rotational crops and herbs that will be used for meals at the stadium's club spaces and during private events.
"We're proud to reinforce Levi's Stadium as an industry leader in environmental sustainability with the addition of the Faithful Farm," said Jim Mercurio, San Francisco 49ers vice president of stadium operations & general manager, in a statement. "Our 27,000-square-foot green roof successfully helps reduce heating and cooling requirements within our suite tower, and carving out this small portion to grow crops for use in the stadium further minimizes our carbon footprint by reducing our reliance on outside food sources."
The Faithful Farm is 4,000 square feet and is located on the NRG Solar Terrace. Some of the crops grown since July include tomatoes, peppers, and eggplants. The farm is managed organically by Farmscape, and it's expected to yield 150 pounds of produce per week.
"The Faithful Farm represents the strongest commitment an NFL team has made to local, organic produce," said Lara Hermanson, principal at Farmscape, in a statement. "The farm will educate the community on how many items can be grown in their own backyard while providing local jobs and great food."
(Image: Levi's Stadium)