By R.V. Baugus
Before we know it VenueConnect in Pittsburgh will arrive. One aspect that we do not often cover concerning VenueConnect is the food served onsite at the host sites. As we build toward IAVM's main event of 2023 we thought now might be a good time to "whet the appetite" in a more literal sense by interviewing Chef Dominique "Dom" Metcalfe, Executive Chef of Levy Convention Centers, the exclusive caterer of the host David L. Lawrence Convention Center. Prepare to be treated royally when at VenueConnect as Chef Dom and team aim to please the palate.
You are coming upon 20 years there with Levy in Pittsburgh. What do you attribute to the longevity?
I absolutely love my job and firmly believe that if you love what you do, you'll never work another day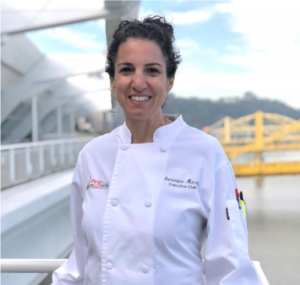 in your life. My passion is making people happy by serving food made with love, and I'm so thankful that I get to do that every day.
You might well know that IAVM is coming to Pittsburgh in late July for the annual conference VenueConnect. As our members in the arena, convention center, stadium, and performing arts worlds are quite familiar with the importance of top-notch chefs at their venues, can you give us just one "sampler" of a dish that you might be preparing for the attendees?
While we're still putting the finishing touches on the VenueConnect menu, you can absolutely expect tons of fresh and flavorful ingredients from our on-site rooftop garden.
Your world travels including Zurich, Dubai, Sydney, and Tuscany are beyond impressive. How important is it to tailor dishes to the areas and regions in which you have served?
Traveling around the world has truly opened my mind to all the different kinds of cuisines and flavors that can be woven together to create amazing experiences. When we make hummus, it brings me back to my time in Dubai and when we make pasta I think of Tuscany. And every time I'm transported back, I think about what made a dish authentic. When we prepare these dishes in our kitchens, we're expressing diverse cultures and traditions on each plate, and I want our guests to experience what makes these flavors unique and authentic.
Do you have a favorite dish that your own hands prepare?
Some people call me a "dough-head" because I really enjoy making anything to do with dough. One of my favorite recipes from growing up was my mom's Focaccia dough, which also made for a great pizza dough. When I get into that mode it always brings back wholesome memories of time spent with my family.
Was cooking an early love for you and when did it actually start?
I began my love for cooking standing on a chair next to my mom, making cinnamon rolls, bread, sauce, meatballs, and pies. In the fourth grade, I had to write a report about "what I want to be when I grow up." I wrote about becoming a chef and never looked back.
I imagine there were lots of incredibly great smells coming from your classes at the Academy of Culinary Arts at Indiana University of Pennsylvania (IUP) from which you graduated. What stands out from those days?
I was the second graduating class from IUP Academy of Culinary Arts and still have contact with one of my favorite instructors, Chef Hilary DeMane. At the time, the baking and pastry classroom was in the same building as the culinary program. After school, my friends and I would stay with Chef DeMane and learn how to "pull sugar." She was like our "Mom" at school, and we just wanted to learn as much as we could from her. Now she brings her graduating pastry students here to the convention center every other year for lunch and a tour.
Part two…the answer to the "smell" that reminds me of school:
I volunteered each month for orientation and open house on Saturday mornings. I was in the "soups, stocks, sauces, and skills kitchen" making hollandaise from scratch. So anytime, I see, smell, and taste hollandaise, it takes me back to those Saturday mornings.
Quite an honor being awarded Best Convention Center Chef in America by LEVY Convention Center and Compass Catering. What did that mean to you?
This award is given to only one chef throughout the entire company of Levy. When they surprised me with this award, it brought me to tears. I never in a million years thought I would receive "Chef of the Year." There are so many talented chefs in our company, and it is very humbling to be a part of this amazing Levy family. To work for a company that takes the time to acknowledge and award people across the country, that's a company that I want to work for.
What are some of those "Only in Pittsburgh" offerings served at the David L. Lawrence Convention Center?
We have a signature dish called the Pittsburgh Paella that is served in a three-foot pan full of favorites such as local kielbasa, haluski, and pierogies with butter and onions. We also have hops growing on our roof, which we pick, dry out, and have teamed up with a local brewery to make "Rooftop Hops," our own IPA.
How important is it to be involved in your local community and what are some things the Convention Center does to display that?
We love our Pittsburgh community and really care about giving back to those in need. We partner with amazing organizations like Jubilee Soup Kitchen and 412 Food Rescue to make sure that leftover food is being put to good use and helping to fight against food insecurity. We are one of the largest food donors in the area and supporting and feeding those in need is dear to my heart.
I would imagine that sustainability is a big deal in the kitchen. Talk some about that as well as any local sourcing you might do.
Sustainability is extremely important to us, and we're so proud to have been recognized as the first Platinum LEED Certified Convention Center, which is a testament to our incredible partners at the David L. Lawrence Convention Center. Whether it's using produce from our rooftop garden, sourcing from farmers and vendors in our community, or working with Agrecycle to compost, we're committed to sourcing locally and sustainably and combatting food waste in every way we have available.
Someone as creative as you must always be on the lookout for trends in your line of work. What are some of those you have seen or some you believe we will see going forward?
One trend I've had my eye on is butter boards – it's such a cool way to present different kinds of spreads and dips. That was a great source of inspiration for our cream cheese boards which we serve at our bagel stations.