Peter William Anthony Bergin, president of Palm Desert, California-based Caddy Products, Inc., and a loyal and dedicated member of IAVM since January 1, 1977, passed away suddenly on January 9, 2018 in Rancho Mirage, California. He was 61.
Caddy Products, Inc is a world leader in design, development and the manufacturing of innovative products for the entertainment, movie, and sports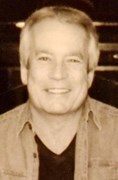 industries. Peter was a friend to countless colleagues in the public assembly venue industry who mourn his passing. He was also a presence at IAVM's VenueConnect as an exhibitor for his company.
Born August 25, 1956 to Joseph and Doraldean Bergin in Guelph, Ontario, Canada, Bergin was best known as an inventor, entrepreneur and businessman.
"Peter is an industry leader, innovator, and a valued customer and friend. Primary Colors, Inc. will miss him greatly and be grateful for the enrichment he brought to our work life," commented Jim Brown, just one of Bergin's close work associates.
Peter is survived by children Peter (Nikki) Bergin Jr. of North Hollywood, California, and Kaylee Bergin of Rancho Mirage, California; sisters Dolores Bergin of Guelph, Ontario, Canada, and Mary Bergin of Alberta, Canada; brother Michael Bergin of Guelph, Ontario, Canada; and nieces Patience and Alannah.
Those wishing to leave condolences may do so here.